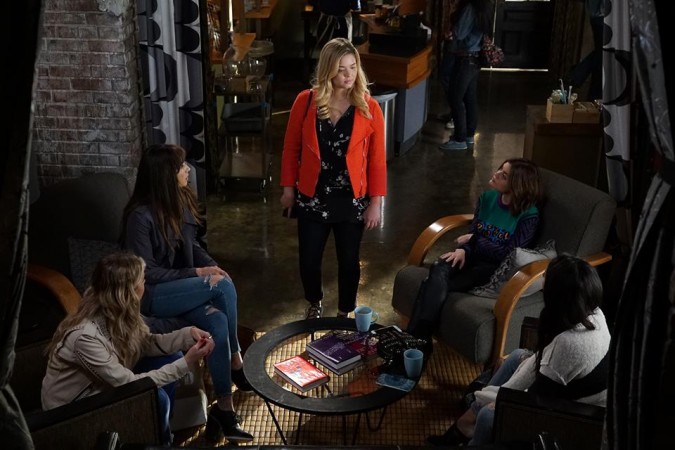 One more person has bid adieu to Rosewood, which seems to be the hub of all shady dealings. This Tuesday's episode of Freeform's "Pretty Little Liars" saw the death of Sara Harvey, and the mystery of who killed Sara Harvey and the motive behind her murder will keep viewers gripped to the teen drama for a while.
Including Sara's demise, the death toll in Season 7 of "Pretty Little Liars" has now risen to three. While Charlotte died shortly after the five-year time-jump, her lover Dr Rollins was run down by Hanna in one of the previous episodes. Because no one in Rosewood stays dead for long, it wouldn't be surprising if both Elliot and Charlotte return sometime later in the season.
But one person who won't be returning is Sara. She is dead, and there are two people who could have killed her.
Jenna: Tammin Sursok's character has links with both Elliott Rollins and Charlotte and she might have killed off Sara after overhearing that she was looking out for the Liars. But could a blind Jenna have killed Sara?
"She's definitely involved in a lot of exciting, tantalizing things that the viewers want answers for," Sursok told Cosmopolitan. "We still tread the line of, "Is she blind? Is she not blind?" She's gonna come back with some gusto, and I'm in most of the season, so it's pretty exciting."
Noel Kahn: Noel is definitely hiding something. He was missing in action after popping up in "Along Came Mary," and rumours are rife that he could have been the one attacked Allison. Could he be the one who killed Sara at Jenna's bidding?
Meanwhile, the synopsis for the next episode has been released and it looks like Jason DiLaurentis will be back in Rosewood to protect his sister Alison from their aunt Mary Drake.
"Pretty Little Liars" airs Tuesdays on Freeform.