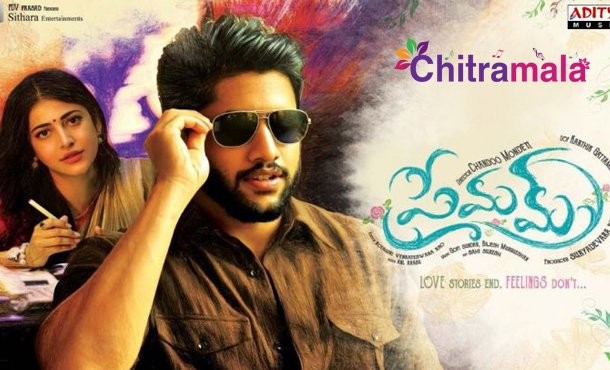 Naga Chaitanya and Shruti Haasan-starrer movie Premam, which was released in theatres around the world on October 7, garnered positive reviews and rich ratings from critics.
Premam, which is the remake of a Malayalam movie of the same name, deals with the journey of Vikram (Naga Chaitanya) through three different stages of his life. He falls in love with three girls -- Sithara (Shruthi Hassan), Suma (Anupama Parameswaran) and Sindhu (Madonna) -- and fails each time. How he settles down with one of the three forms the crux of the story.
Director Chandoo Mondeti has made certain changes to the original screenplay to suit the tastes of the Telugu audience. Though the story is predictable after a point, it has enough of entertainment values to keep viewers engaged throughout the movie, say the critics.
Naga Chaitanya has delivered his career-best performance and he has shown a lot of maturity and improvement in his acting when compared to his previous movies. Shruti Haasan, Madonna Sebastian and Anupama Parameswaran have done justice to their roles and their chemistry with the actor is highlight of the movie. Srinivas Reddy, Brahmaji and Praveen's comedy adds humour elements to the film.
The Telugu version of Premam has rich production values. Karthik's brilliant camera work and Gopi Sunder and Rajesh Murugesan's music are the attractions on the technical front, say the critics. The film has been rated an average of 3.26 out of 5 stars. Continue to see some critics' verdict and ratings in Premam review round-up:
Idlebrain Ratings: 3.25
Plus points of the film are casting (especially Naga Chaitanya), beautiful moments and realistic approach by director. On the flipside, there are a few dull moments in second half due to a few forced comedy elements (Sathya teaching dancing etc). On a whole, Premam is a film of moments that explores love in it's purest/idealistic perspective. You may watch it!
123 Telugu Ratings: 3.5
Premam will undoubtedly be the film that will take Naga Chaitanya to the next level as a star. He surprises you with his standout performance and is the sole reason to watch Premam. Romantic songs, entertaining narration and a feel-good nature of the script will surely be loved by the audience big time. If you stop drawing comparisons from the original and go with an open mind, Premam is one romantic entertainer which will keep you hooked throughout and makes up for a good watch this festival season.
India Glitz Ratings: 3.3
A fairly entertaining rom-com. Musically and lyrically superb. One of the career best performances by Chaitanya. Comedy wins. A happy festival watch.
AP Herald Ratings: 3
For those who watched original, this movie would definitely do justice. For those who haven't, this movie is a sure shot wholesome treat ! Nagachaitanya has delivered lots of goods and he has completed his role as an actor. Nagarjuna Akkineni's voice over starts the movie and ends it on a high note. The movie has not many flaws. Technical wise the movie is too strong too. Rich production values also help the movie to get a free flow of run. The movie will be a blockbuster for sure.
Gulte Ratings: 3.25
Premam will appeal to the urban audience for its sophisticated style of storytelling and feel good nature. B and C centers may find it too slow for their tastes. Premam is not blockbuster material but has the goods and good moments to be a winner. There is a lot of competition during the Dasara season, but Premam shouldn't have any problem as it is entirely different from other films and will have its audience.