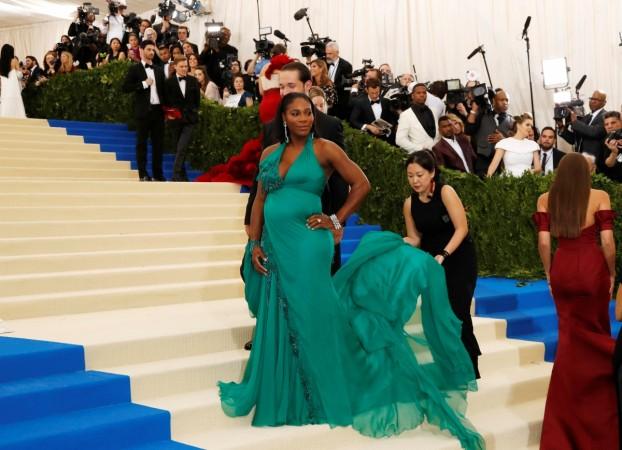 Ace tennis player Serena Williams, who is currently six months pregnant with her first child, flaunted her baby bump for the latest cover story of Vanity Fair magazine. In the interview, the tennis star opens up about her relationship with fiance and Reddit founder Alexis Ohanian, her pregnancy and other such personal topics.
Also read: Tennis news: Serena Williams not letting her pregnancy stop her from doing what she loves
Serena says her heart almost stopped as her pregnancy report came out positive. "[I] did a double take and my heart dropped. Like literally it dropped," Serena told the magazine.
But she won the Australian Open 2017 during her pregnancy, which she had not revealed at that time. She later took to Instagram to post a picture of her blossoming baby bump in a yellow outfit (by mistake though!), and that was when her fans realised that she was pregnant during the Grand Slam tournament.
The younger sister of Venus Williams has now bared it all for the cover photo of Vanity Fair while covering her assets with her right hands. She has been clicked by famous celebrity photographer Annie Leibovitz, who shot almost the same picture of actress Demi Moore during her pregnancy.
"It just doesn't seem real ... If you would have told me last year in October or November that I would have a baby, not be pregnant but have a baby, I would have thought you were the biggest liar in the world," Williams told the magazine.
While talking about her surprise pregnancy, she said, "I don't know what to do with a baby. I have nothing ... I've done absolutely nothing for the baby room."
She took the pregnancy test six times as she could not digest the news easily. "Oh my God, this can't be -- I've got to play a tournament," Serena said. "How am I going to play the Australian Open? I had planned on winning Wimbledon this year."
The 35-year-old player took to social media to share the interview with her fans, writing: "A must read article. My first and only pregnancy pictures. Vanity Fair. Annie Leibowitz. Buzz Bissinger. Does not get any better. So what do you all think boy or girl?"
Her 34-year-old fiance could not be happier as he heard the news. Serena, who announced her pregnancy with the Reddit co-founder in April, will get married soon after the baby is born. The couple got engaged in December last year.
The tennis player will be back soon on the circuit in January because she does not think that her story is over yet.