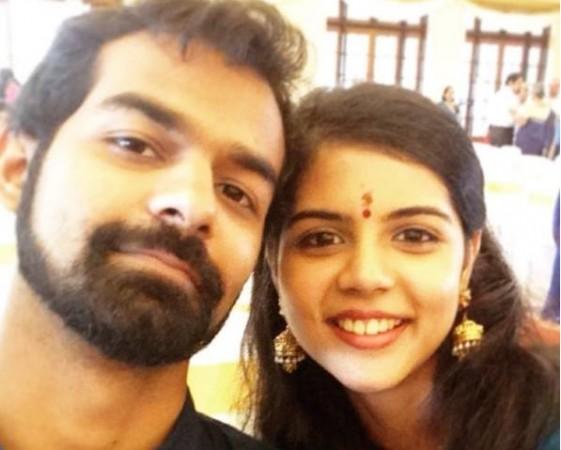 Mammootty and Mohanlal is part of Kerala diet. Malayalis love them the same way they love their quintessential chips and parippuvada. The love for the superstars has rubbed off on to the juniors as well. While Mammootty's son Dulquer has already established a foothold in South industry, Pranav Mohanlal is already the darling of 'mallus' even before making a Mollywood entry.
Pranav Mohanlal to learn parkour for his debut Jeethu Joseph movie
While Dulquer is very active on social media, Pranav likes to lie low. He made a page on Facebook in 2015 accompanied by the post, "Hi everyone, Pranav Mohanlal here, and this is my official page [sic]."
But then he just spirited away with no sign of him on social media. Now, a recent selfie of Pranav is breaking the Internet, mainly for two reasons, firstly because its Pranav's picture and secondly netizens are curious to know who the girl in the picture is.
Pranav is seen with childhood friend and Priyadarshan's daughter Kalyani. The selfie was taken during a private function attended by the duo, and it went viral on social media in no time.
Here is the viral selfie of Pranav and Kalyani:
Here is another photo of Pranav and Kalyani:
On the career front, Pranav-- who has associated with director Jeethu Joseph in few movies-- is all set to make his acting debut with Jeethu's upcoming movie, bankrolled by Antony Perumbavoor under the banner of Aashirwad Cinemas. Though details on his character are not revealed, Mohanlal had said in an interview that Pranav was thrilled to learn parkour for his debut movie. Meanwhile, actress Lissy had announced her daughter Kalyani's debut as an assistant art director in Vikram and Nayantara movie Iru Mugan.
Pranav Mohanlal to make his entry as hero in Jeethu Joseph movie; celebrities extend him a warm welcome
Recently, few photos of Mollywood actor Jayaram's daughter Malavika aka Chakki had also gone viral and netizens were all praise for the unbelievable physical transformation the star kid has undergone.