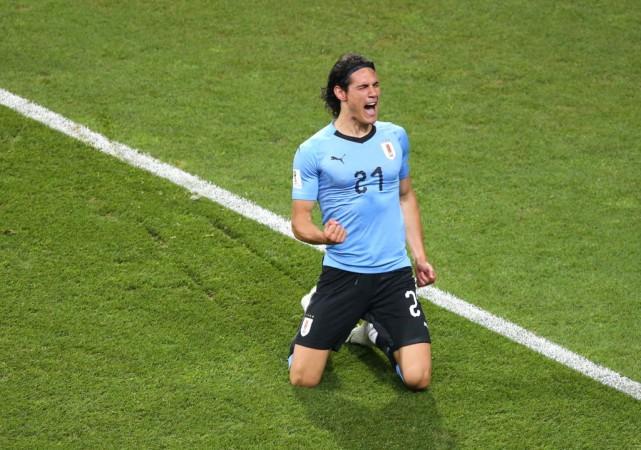 Hello and welcome to the live updates of Fifa World Cup 2018 Round of 16 match between European champions Portugal and Uruguay from Sochi.
Live Updates
2018-07-0101:49 (IST)
Messi and Ronaldo bow out on the same day!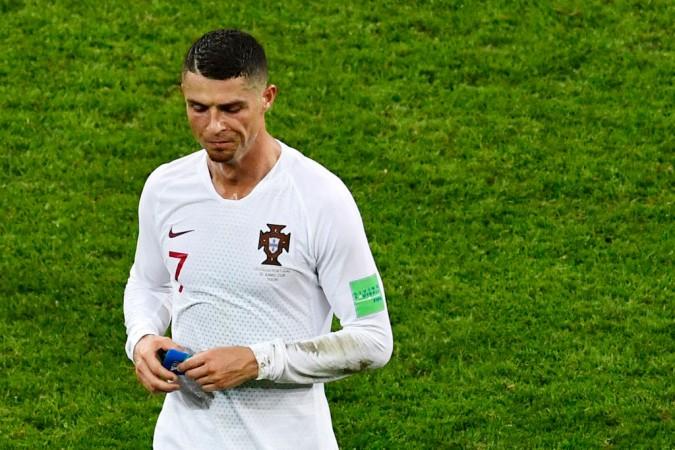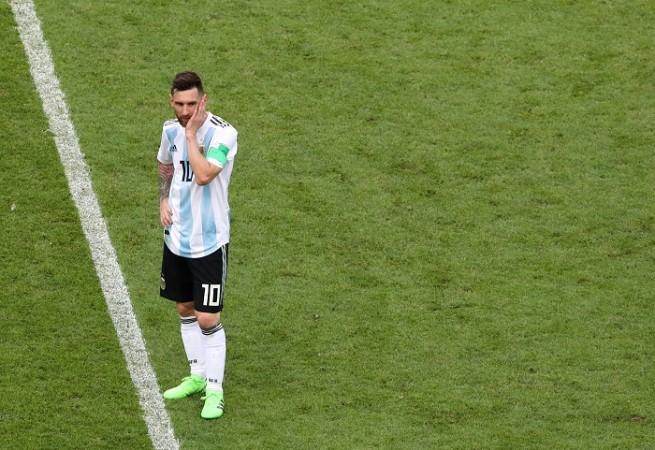 Even as two quality teams progressed, Saturday might have been one of the most disappointing days for football fans across the globe as both Cristiano Ronaldo and Lionel Messi's World Cup campaigns came to an end.
While doubts remain over Messi's international future, Ronaldo might not play the next World Cup. He will be 37 when Qatar hosts the quadrennial global spectacle in 2022. Nonetheless, you never know what these legends can do.
2018-07-0101:30 (IST)
Full time: URU 2-1 POR
It's all over for Cristiano Ronaldo and Portugal as Edinson Cavani's double knocks out the European champions. Uruguay will now face France in the quarter-final.
The Paris Saint-Germain man was full of class on Saturday night as he came up with two of the most stunning strikes. Luis Suarez, who provided the brilliant cross to his strike partner, was impressive as well.
Deigo Godin-led backline was breached for the first time in 2018 when Pepe headed one in. However, they weren't willing to commit another error. What a thorough performance from Uruguay.
Wonderful win for Uruguay. A country with the same population as Wales have 2 of the best centre-halves and 2 of the best strikers on the planet. The rest aren't bad either #URUPOR

— Dan Walker (@mrdanwalker) June 30, 2018
Sochi witnessed frenetic scenes in the injury time. Portugal were putting everything into the box as they were looking for another header into the net.
Ronaldo was booked, meaning he would have missed the quarter-final if Portugal had progressed. He was penalised for having a go at the referee after his team was denied a free-kick over what he thought was a foul on Quaresma outside the right of the box.
2018-07-0101:20 (IST)
90 min: Four minutes of added time
Just four minutes for Ronaldo to possibly live to fight another day. He takes matters into his own hands as he fires own from the left wide off the post.
2018-07-0101:15 (IST)
85 min: Portugal make another change
Manuel Fernandes comes in for Joao Mario. Meanwhile, Portugal are putting in a lot of crosses but neither Ronaldo nor anybody else is able to head one in. Down to the last five minutes.
2018-07-0101:08 (IST)
77 min: Corner for Portugal
Set-pieces seems to be the way to go for Portugal as the clock is running down. Quaresma takes a corner and Pepe is inside the Uruguayan box for it. Ronaldo leaps high but is unable to get any contact.
2018-07-0101:06 (IST)
74 min: More changes for the two teams
Stuani replaces Cavani. Meanwhile, Portugal replace Gudes with Andre Silva.
2018-07-0101:05 (IST)
74 min: Cavani limps off
Uruguay, it seems, will lose their main man. Edinson Cavani seems to be having some issues with his calf.
In a nice show of sportsmanship, Cristiano Ronaldo helps the Uruguayan star off the pitch and deservedly gets the applause from the crowd.
He signals for a replacement. That's the end of Cavani, who was magical on the big night in Sochi.
2018-07-0101:03 (IST)
70 min: Portugal squander golden chance
Bernardo Silva was having an open net to aim at when Uruguayan custodian Muslera fumbled inside the box. But the Manchester City man shoots it over the bar. A huge miss this!
2018-07-0100:57 (IST)
65 min: The two teams make a change each
Bentancur comes off for Uruguay. He is being replaced by Rodriguez. Meanwhile, Portugal, in search of a goal, bring Quaresma on after replacing Adrien Silva.
2018-07-0100:55 (IST)
62 min: Goal! Another Cavani stunner!
Portugal need to do it all over again as Uruguay take the lead again. Edinson Cavani at it again!
After receiving a beautiful cross to the left, the open-chested Paris Saint-Germain striker curls into the post. Rui Patricio had no chance. Delightful is the word.
Ronaldo meanwhile gives a war cry to motivate his men. Will the Uruguayan defence be breached again?
597 - Pepe's goal for Portugal ended Uruguay's run of 597 minutes without conceding a single goal, with the previous being conceded back in November 2017 vs Austria. Breached. #WorldCup #URUPOR #POR #URU

— OptaJoe (@OptaJoe) June 30, 2018
2018-07-0100:51 (IST)
60 min: Portugal are putting pressure
Buoyed by the equaliser, Portugal are pressing forward. Uruguayan defence is shaken here.
2018-07-0100:48 (IST)
55 min: Goal! Portugal equalise
Pepe delivers for Portugal. Uruguayan defence breached for the first time in the tournament, in fact, the first time in 2018.
After a few nervous moments in their own box, Diego Godin and Co. concede. Portugal looked more likely to get the equaliser from a set-piece and they do that exactly.
Pepe was unmarked before he slotted in a cross from the left, which initially missed Ronaldo.
2018-07-0100:40 (IST)
50 min: It's still remains 1-0 in Sochi
It's been a battle in the midfield so far. Diego Godin continues to be a pillar in the Uruguayan defence. Ronaldo still hasn't had a touch inside the box.
2018-07-0100:33 (IST)
Time for the second-half in Sochi
Cristiano Ronaldo did not even get a single touch inside the Uruguayan box in the first-half. And that pretty much explains the scoreline, considering how influential he has been for Portugal in this tournament.
Will that change in the second half?
2018-07-0100:23 (IST)
Half-time: URU 1-0 POR
Edinson Cavani's sixth-minute goal separates the two sides at the break. Luis Suarez and the Paris Saint-Germain forward combined to produce one of the most memorable strikes of the ongoing tournament.
Uruguay created quite a few chances in the first-half but weren't able to double their lead. On the other hand, Diego Godin-led backline has been on top of its game. Ronaldo & Co. haven't managed to trouble Muslera much in the first-half.
Key stats:

?Only once has #POR progressed from a #WorldCup knockout match after falling behind. They beat Korea DPR 5-3 after falling 3-0 behind in 1966

? @Uruguay have won four of their previous five World Cup knockout matches in which they scored first#URUPOR pic.twitter.com/7glP8fghOE

— FIFA World Cup ? (@FIFAWorldCup) June 30, 2018
Can Fernando Santos' men find something to break the Uruguayan defence in the next 45 minutes?
2018-07-0100:18 (IST)
45 min: Two minutes of added time
Luis Suarez goes down holding his head to the right of the Portuguese box. He seems to be in pain but the referee doesn't stop the play. Meanwhile, Ronaldo wins a corner at the other end but nothing comes off it.
Two minutes added on here.
2018-07-0100:10 (IST)
36 min: Uruguay looking solid
The Celeste fans at the Fisht Stadium are happy as Diego Godin & Co. are doing a good job of maintaining their lead, wading off Portugal's attacking threats.
Cavani, in fact, had another chance when Caceres put a cross from the right to Nandez, who missed it. The Paris Saint-Germain was running in from the left but he heads the ball out of play.
2018-07-0100:04 (IST)
32 min: Ronaldo hits free-kick into the wall!
Bentancur committed a foul against Guedes just outside the box, conceding a penalty to Ronaldo. The Real Madrid star took his time but hit it straight into the wall. Disappointing effort, considering how he had struck the wonder goal against Spain at this very stadium.
2018-07-0100:00 (IST)
25 min: Free-kick for Portugal
Free-kick from the right of the box for Portugal after Godin brings down Bernardo Silva. Carvalho takes the kick even as his team puts a lot of white shirts into the Uruguayan box. However, the cross misses Ronaldo, who leaps inside the box.
2018-06-3023:55 (IST)
21 min: Free-kick for Suarez
Suarez makes a brisk run towards the Portugal box before he is pushed to the ground by Pepe. A free-kick from just outside the box and the Barcelona defender give Rui Patricio a good scare but is unable to add to Uruguay's tally.
Good end-to-end football being played here.
2018-06-3023:53 (IST)
20 min: It's still 1-0 in Sochi
Portugal haven't let their heads drop after the early goal. They have made some good attacking forays so far. However, the Uruguayan defence, which has not conceded yet in 2018, has been up to the mark.
It seems the Celeste are going to be difficult to break down as they are able to get a lot of men back when Portugal press.
2018-06-3023:42 (IST)
6 min: Goal! Cavani gives Uruguay the early lead
What a delightful attacking move from Uruguay. Edinson Cavani puts a long ball for Luis Suarez from the right and runs into the box while the Barcelona forward cuts in and provides a brilliant cross.
Cavani slots it past Rui Patricio to give his team an early lead. Portugal were looking dangerous but they now have to play catchup.
2018-06-3023:38 (IST)
6 min: Ronaldo gets the first shot on target
Ronaldo seems to be in the mood today. He finds Bernardo Silva on the right and receives a pass back in a dangerous position. The Real Madrid star hits it straight into the chest of Muslera.
2018-06-3023:34 (IST)
2 min: Portugal make a brisk start
Portugal have had their first shot. Cristiano Ronaldo has already had his first touch. Bernardo Silva headed one over the far post after a good ball was put in from the left by Joao Mario.
2018-06-3023:31 (IST)
1 min: Portugal get the match underway in Sochi
The second Round of 16 match is underway in Sochi. Fisht Stadium is buzzing under the lights. Who will be the victorious team at the end of 90 minutes here?
2018-06-3023:27 (IST)
National anthems of the two teams are being played
The two teams have walked into the middle. Uruguayan national anthem is being played first at the Fisht Stadium in Sochi. The La Celeste are wearing their Sky Blue while Cristiano Ronaldo and his men are wearing white.
2018-06-3023:20 (IST)
Can Cavani and Suarez light up Sochi?
While all eyes will be on Ronaldo, Uruguay have two of the best forwards going around in their line-up.
Edinson Cavani and Luis Suarez haven't really set the stage on fire yet but they are more than capable of taking apart opposition backlines. Can they do it today against a Portugal defence that has been shaky so far?
2018-06-3023:17 (IST)
We're 15 minutes away from the start in Sochi
All eyes will be on Cristiano Ronaldo as Portugal make a bid to make the quarter-final. As India captain, Sunil Chhetri, who is on the Sony Pictures Networks India's guest panel, says whatever good that has happened to the European Champions in Russia has happened because of the Real Madrid star.
Ronaldo cannot afford to get on the referee's books today as he will miss the quarter-final (due to two yellow cards) if Portugal make it through.
2018-06-3022:52 (IST)
Messi is out, can Ronaldo live to fight another day?
Lionel Messi and Argentina's disastrous World Cup campaign came to an end earlier today after a seven-goal thriller in Kazan. The Barcelona star was a shadow of his self as France took apart the Abliceleste defence.
Kylian Mbappe proved why he is one of the costliest players going around as the teenager struck a wonderful double and troubled Argentina with his raw pace.
The onus will now be on Cristiano Ronaldo to take Portugal to the next round. The Real Madrid star has already scored four goals but he has never scored in a World Cup knockout match. Will that change today?
2018-06-3022:49 (IST)
Diego Godin vs Cristiano Ronaldo
Captain Diego Godin will be hoping to use the wealth of experience to keep Ronaldo quiet later today. The Portugal skipper has been enjoying one of his best World Cup campaigns as he has already scored four times, including the stunning hat-trick against Spain at the very stadium.
The Atletico Madrid veteran has come up against Ronaldo on numerous occasions in La Liga and has managed plenty of success as well — the Real Madrid star has not found the net in 13 of their last 20 meetings.
2018-06-3022:44 (IST)
Confirmed line-ups: Portugal make three changes
Fernando Santos has made three changes to the line-up that clinched a crucial point against Iran in their final group-stage match.
In: Ricardo Pereira, Goncalo Guedes, Bernardo Silva
Out: Cedric Soares, Ricardo Quaresma, Andre Silva
Meanwhile, Uruguay are bolstering their defence and now they have two Atletico Madrid center-backs in a bid to stop Real Madrid's Cristiano Ronaldo.
Captain Diego Godin will be pairing with Jose Gimenez, who replaces Sebastian Coates.
Confirmed playing XIs here.
2018-06-3022:40 (IST)
Uruguay favourites to reach quarter-final?
Having not conceded a goal at all in 2018, Oscar Tabarez's men will fancy their chances against Portugal, who seem a bit too reliant on their star skipper.
Uruguay also has two of the best attackers going around in Luis Suarez and Edinson Cavani. With the Barcelona forward slowly finding form, the duo is expected to trouble the Portuguese backline that was shaken by Spain and later tested by Iran.
2018-06-3022:40 (IST)
Uphill task for Cristiano Ronaldo and his team?
Fernando Santos' men face an uphill task in today's big match as Uruguay have been impeccable in the ongoing quadrennial tournament.
While Cristiano Ronaldo & Co. survived a scare against Iran in their final Group B tie to make the knockout stages as the second-placed side, the South Americans topped Group A and were the only side to progress past the group stage without conceding a goal.