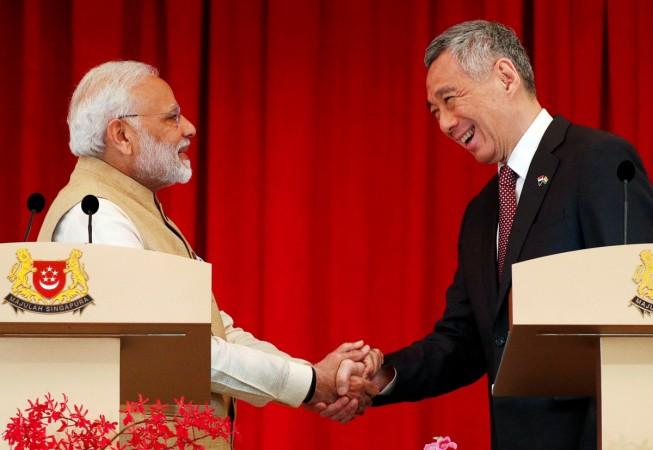 Almost lost in the din of the upcoming U.S-North Korea summit and fresh tension between Washington and Beijing last week, India cemented its diplomatic and security ties across Southeast Asia in a clear challenge to China.
It's not clear just how far New Delhi will take these relationships, given years of promise, and a general election due in 11 months that could be a distraction for Prime Minister Narendra Modi. And if India is already rattling China, it won't want to spark an open confrontation.
But Modi took several concrete foreign policy and security steps in Southeast Asia in recent days.
He signed an agreement with Indonesia to develop a port in the city of Sabang that would overlook the western entrance to the Strait of Malacca, one of the world's busiest waterways, and agreed to a pact with Singapore on logistical support for naval ships, submarines and military aircraft during visits.
Modi also flew to Kuala Lumpur for a late-scheduled call on Malaysian Prime Minister Mahathir Mohamad, who won last month's general election, effectively cementing ties with three of the most influential Southeast Asian nations.
On Friday, Modi told the Shangri-La Dialogue in Singapore, Asia's premier defence forum, that India would work with the Association of South East Asian Nations (ASEAN) to promote a rules-based order in the Indo-Pacific region.
"We will work with them, individually or in formats of three or more, for a stable and peaceful region," he said in the keynote speech at the forum.
Several delegates, including U.S. Defense Secretary Jim Mattis, voiced support.
At the end of the forum on Sunday, Singapore Defence Minister Ng Eng Hen said: "I am sure many countries are delighted that India has indicated its firm commitment to the region."
CHINA COOL
The term "Indo-Pacific" has grown in usage across diplomatic and security circles in the United States, Australia, India and Japan in recent years, shorthand for a broader and democratic-led region in place of "Asia-Pacific", which some people have said places China too firmly at the centre.
In a nod to India's growing regional stature, the U.S. military's Pacific Command in Hawaii formally changed its name to the U.S. Indo-Pacific Command in a ceremony on Wednesday.
Despite an outward show of friendship between China and India, and Modi's comments about the strong relations between them, Beijing gave a distinctly cool response to his strategy.
The state-owned Global Times warned in an editorial last week: "If India really seeks military access to the strategic island of Sabang, it might wrongfully entrap itself into a strategic competition with China and eventually burn its own fingers."
ADVERTISING
Senior Colonel Zhao Xiaozhou, research fellow at the Institute of War Studies Academy of Military Sciences of the People's Liberation Army, told reporters on the sidelines of the Shangri-La Dialogue that Modi "made some dedicated comments on what he thought of the Indo-Pacific concept".
He did not elaborate but the Global Times quoted him as saying: "The Indo-Pacific strategy, and the quasi-alliance between the U.S., Japan, India and Australia will not last long."
WIDER FOOTPRINT
Indian foreign ministry officials said there was a strong element of self-interest in New Delhi's efforts to secure open access to the Malacca Strait, since it carries about 60 percent of its foreign trade.
But India's intended footprint looks to be wider. Late last month, three Indian warships staged exercises with the Vietnamese navy for the first time in the South China Sea, which is claimed almost wholly by China.
Vietnamese submariners are trained in India, while the two sides have significantly increased intelligence sharing and are exploring advanced weapons sales.
To the west, India signed an agreement for access to the port of Duqm on Oman's southern coast, during a visit by Modi earlier this year. Under the agreement, media reports said, the Indian Navy will be able to use the port for logistics and support, allowing it to sustain long-term operations in the western Indian Ocean.
In January, India finalised a logistics exchange arrangement with France under which it can use French military facilities in the Indian Ocean.
Analysts said a more assertive India would answer concerns in Southeast Asia about expanding Chinese influence in the region and a fear that the United States was disengaging.
The United States' trade spat with China and a perceived U-turn in its foreign policy as it pursues peace with North Korea had shaken many assumptions in the region, they said.
"There is some pressure (in ASEAN) for diversification of security relationships, taking insurances," said C. Raja Mohan, director of the Institute of South Asian Studies at the National University of Singapore.
"An active India then actually fits into this situation."
But although Modi has started strongly, it was not clear how well his strategy would be sustained, he added.
"Implementation has always been a major challenge for India. (Modi is) struggling to improve the capacity of Delhi to do things outside borders. There's been some advance but that is a structural challenge that will remain."
[Analysis by Raju Gopalakrishnan for Reuters]