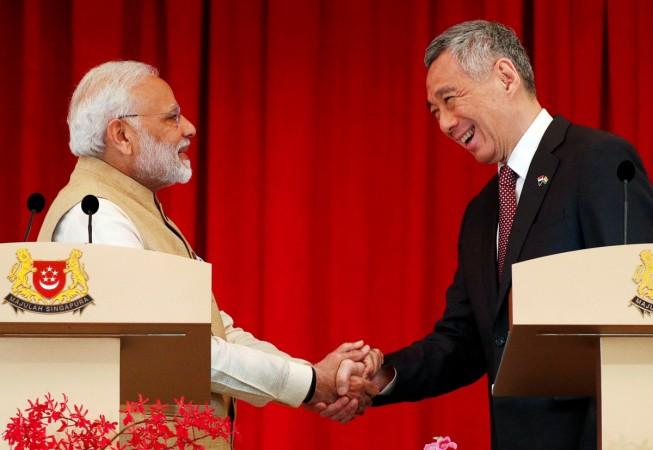 Indian Prime Minister Narendra Modi on Friday said that India and Singapore will soon upgrade their Comprehensive Economic Cooperation Agreement (CECA) following a bilateral summit with his Singaporean counterpart Lee Hsien Loong here during which both sides called for regional peace and stability.
The two sides also signed eight agreements across different sectors after the summit.
"We are happy with the second review of the Comprehensive Economic Cooperation Agreement," Modi said in a joint address to the media with Lee.
"But both our countries agree that this is not our target, but just another milestone," he said.
"Officials from both our countries will soon discuss how to upgrade this agreement."
India and Singapore signed the CECA in 2005. Singapore is the first country with which India signed such a treaty.
On his part, Lee said that bilateral trade between India and Singapore has doubled to $25 billion since the CECA came into effect.
He also said that as the current chair of the Association of Southeast Asian Nations (Asean), Singapore will work with India in the regional security architecture.
Modi said that while Singapore is a significant source of foreign direct investment for India, the southeast Asia city state is also a top destination of Indian investments.
"I am happy that Indian companies use Singapore as a springboard to expand to other Asean countries," he said.
"Investments by Singapore companies in India are rising. There are unparalleled opportunities for Singapore companies in significant sectors in India's development."
Stating that air traffic between India and Singapore is increasing rapidly, the Indian Prime Minister said that the two countries will soon sign an air services agreement.
He also said that both countries are putting a lot of emphasis on defence and security in terms of tactical cooperation.
Congratulating the navies of the two countries for the 25th year of the Singapore India Bilateral Maritime Exercise (Simbex), he said trilateral exercises will also be started soon.
"In the times to come, our cooperation in terms of cyber security, and fighting extremism and terrorism will attain more importance," Modi said.
"We agree these are the biggest threats to our two countries."
Modi said that he and Prime Minister Lee also discussed regional and global issues.
"We reviewed our respective views on maritime security and reiterated our commitment to a rules-based order," he said.
"We have agreed that an open, stable and suitable international trade regime should be maintained."
The Indian Prime Minister also stressed on the unity and centrality of Asean and regional stability through the Asean institutions.
He also said that he reiterated Indian's commitment to a quick conclusion of the Regional Comprehensive Economic Partnership (RCEP).
RCEP is a proposed free trade agreement between the 10 Asean member states and the six states with which this regional bloc has existing free trade agreements - Australia, China, India, Japan, South Korea and New Zealand.
The agreements signed on Friday included those on naval cooperation, cyber security and mutual recognition on nursing.
According to a joint statement issued, both sides reiterated their desire and determination to work together to maintain peace, stability, growth and prosperity in the region and beyond.
"The Prime Ministers affirmed their resolve to fight against global terrorism, terror organisations and networks and all those who encourage, support and finance them," it stated.
Following the summit, Modi took a tour of the Nanyang Technological University (NTU) here and participated in a question-answer session with NTU President Subra Suresh during which he said that every disruption should not be seen as a destruction.
"People believe that disruption leads to destruction," Modi said during a conversation with Nanyang Technological University (NTU) President Subra Suresh here.
"But I think this is wrong as I believe that disruption is linked to human talent and creativity," he said in response to the world being at a nascent stage of the fourth industrial revolution.
Stating that technology is what empowers people, Modi said that a technology-driven society breaks social barriers.
"Technology has to be affordable and user-friendly," he said.
As part of his official engagements, Modi also handed over the Padma Shri, India's fourth highest civilian honour, to former Singapore diplomat Tommy Koh.
In an unprecedented move to promote India-Asean ties under New Delhi's Act East Policy, Modi announced awarding of the Padma Shri to one achiever from each of the regional bloc's 10 member states.
The Asean comprises Brunei, Cambodia, Indonesia, Laos, Malaysia, Myanmar, the Philippines, Singapore, Thailand and Vietnam.
Modi also gifted Prime Minister Lee a replica of a sixth century Buddhagupta Stele that bears Sanskrit phrases in Pallava script and serves as important evidence of the transmission of Buddhism from India to southeast Asia, particularly the Straits and the Malay peninsular region.
Earlier in the day, Modi was accorded a ceremonial welcome at Istana, the presidential palace of Singapore following which he called on President Halimah Yacob.
Later in the evening, he will deliver the keynote address at the Shangri-La Dialogue, becoming the first Indian Prime Minister to do so in the Track I annual inter-governmental security forum.
Modi arrived here on Wednesday on the third and final leg of his five-day three-nation tour of southeast Asia.
This is his second official visit to Singapore as Prime Minister.
Source - IANS