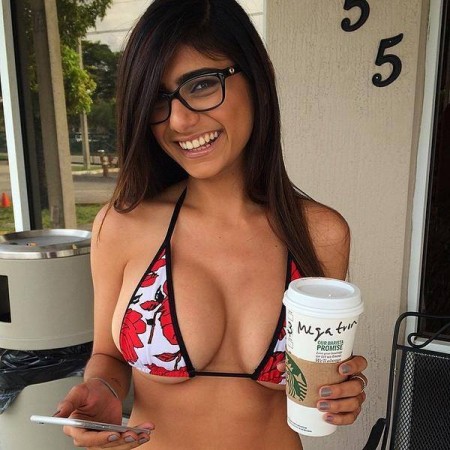 Former adult star Mia Khalifa is in the news again. The Lebanon-born adult star is to go under the knife on her breast after she was hit by an ice hockey puck while attending a game.
After leaving the porn industry, Khalifa decided to try other professions. She has turned into a sports presenter and was recently supporting her team, the Washington Capitals. During one of the Washington Capitals' playoff games against Tampa Bay Lightning, Mia was struck by a stray puck that flew into the crowd and hit her on the chest.
According to The Daily Star, the rubber puck is estimated to have been traveling at around 80mph when it struck her chest, rupturing an implant on her left breast. She later posted on Instagram about the incident and stated she is going to keep the puck that has possibly ruptured her breast implant.
Mia Khalifa further explained to the Daily Star that during the game, she was sitting behind the glass. The rubber pluck came shooting over it and it caught her off guard as she had no idea that it was coming towards her.
"I grabbed my chest and I didn't want to let go, because I felt like if I did let go blood was going to be everywhere. I got to take it home, it was the single greatest souvenir any hockey fan can get: a game-used puck that comes at you and hits you," she added.
Meanwhile, it was not long ago when Khalifa talked about the wrong choices she made in her life. While talking to Lance Armstrong on his podcast, the 25-year-old former porn star confessed that entering into the adult entertainment industry was a grave mistake of her life. During Armstrong's podcast, the former adult star recalled the day when she got death threats from ISIS.
"It all started to spiral out of control when the death threats from ISIS started coming in. That's when I stepped away. As soon as I started to gain popularity that's when I was like 'get the f*** out of this," she recalled.
Khalifa became a renewed name in the adult entertainment world after she became the top-ranked performer on the adult website PornHub. Her adult videos got massive hits and drew criticism from the Middle East and ISIS even sent her death threats.