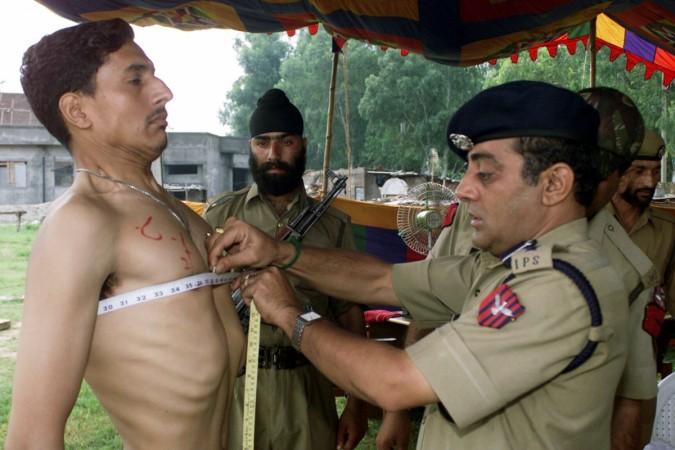 Days after the Madhya Pradesh police hit headlines for labeling candidates on the basis of their caste during a recruitment drive, the department has once again stirred controversy for similar reasons.
During a recruitment drive in Bhind, the department is said to have carried out medical checkups for men and women in the same room. Not just that, these checkups were reportedly carried out my male doctors.
It has also been alleged that the male candidates were paraded semi-naked in front of women and female candidates were measured by men, reported News18.
These reports come just after the state police department was slammed for branding candidates with their castes on their chests during the medical examination. Several images did the rounds on social media where candidates were seen lined up with SC/ST labeled on their chests.
#BREAKING Shocker from Madhya Pradesh during recruitment of police constables in Bhind. Medical checkup for men and women candidates were done in the same room by male officers. While men were paraded semi-naked in front of women. Women's measurements were taken by male officers pic.twitter.com/RjY8htQ3fX

— News18 (@CNNnews18) May 2, 2018
The incident created quite some controversy after which a probe was ordered. The superintendent of police Veerendra Singh also slammed the incident and said that the instruction to label the candidates had not been given by any authority.
"The incident where candidates' chests were labeled with their castes is indeed deplorable. We have taken the matter seriously as this is wrong and should not happen. I have directed an investigation into the matter so that we can prosecute the ones responsible at the earliest," ANI quoted Singh as saying.
He also assured that the guilty would be punished.
Meanwhile, Rahul Gandhi also took to Twitter and posted a picture of two candidates with letters SC and ST written on their chest and questioned the step.
"BJP government's casteist attitude has knifed the heart of the country. They have attacked the country's Constitution. This is BJP/RSS thought," he tweeted in Hindi.
BJP सरकार के जातिवादी रवैये ने देश की छाती पर छूरा मारा है। MP के युवाओं के सीने पर SC/ST लिखकर देश के संविधान पर हमला किया है।

ये BJP/RSS की सोच है। यही सोच कभी दलितों के गले में हांडी टंगवाती थी, शरीर में झाडू बंधवाती थी, मंदिर में घुसने नहीं देती थी। हम इस सोच को हराएँगे। pic.twitter.com/ycqt1nEp0E

— Rahul Gandhi (@RahulGandhi) April 30, 2018
BSP chief Mayawati also lashed out at the BJP government and questioned PM Modi's silence on the matter.
"This is the new and fresh example of BJP governments' new found love for Dalits for their political gains," Mayawati said in a statement, according to the Press Trust of India.
"Does it suit the BJP and company, and the prime minister himself, to remain silent, (and) not to condemn such a casteist incident."