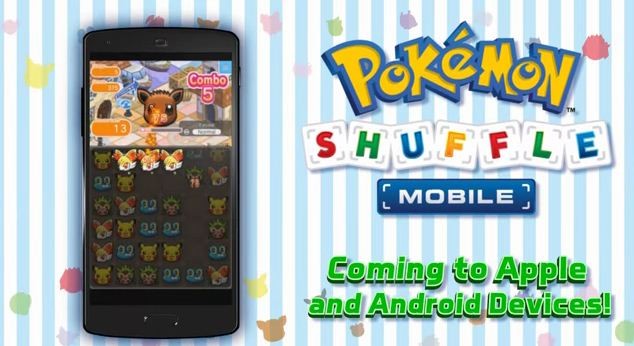 Popular and successful free-to-play puzzle game from developer Genius Sonority is now available on Android and iOS platforms as earlier promised. The game has had a successful run on Nintendo 3DS platforms.
Game Informer reports that the mobile version of Pokemon Shuffle will contain over 150 collectible critters and allows players to integrate with Facebook, letting them connect with friends.
It notes that many of the things that were criticised were "retooled" making the game "more generous" with regards to players using and consuming the in-game currency.
[READ ALSO: Pokemon Shuffle: New Pass Codes for 3DS and Mobile Version, Repeat Events Revealed]
This is Nintendo's first video game that is making its evolution to mobile platforms. Though the company has had previous history of creating companion apps, this will be first porting of a 3DS game.
Also the game is much like other puzzle games like Candy Crush, so players who are new to Pokemon will also get introduced to the ported Nintendo game.
This is not only a strong move from the company, but also a right one. The Pokemon Company has otherwise very rarely released games for other non-Nintendo devices.
Download Links
Interested can download the game here for Android and iOS platforms.
New Special Events for Pokemon Shuffle
Serebii, the trusted source on Pokemon related games shared the following events for Pokemon Shuffle:
Mega Stone challenge: This new challenge will allow players to earn Pokemon Sharpedonite, which can Mega Evolve into Sharpedo. The event will be running from 7 September, 2015 to 14 September, 2015.
Pokemon Lugia Timed Event: This event will allow players to access Pokemon Lugia but they will have only 30 seconds to finish the stage. The event will be running until 14 September, 2015.
Pokemon Carnivine Event: This event will let players access Pokemon Carnivine and will be available only till 12 September, 2015. Here items can be used without costing players anything.
Pokemon Safari Stage Event: This is a repeat challenge that will allow players access Spinda, Cherubi, Cherrim, Carvanha and Sharpedo.
New Event: Players in the top 106,000 ranks worldwide participating in Mega Venusaur competitive stage will now be receiving Venusaurite. Higher ranked players will be getting The Attack Power and Mega Speedup. Players who did not manage to qualify will be getting a Jewel. Players can check if they have received the items from now to 7 September, 2015.