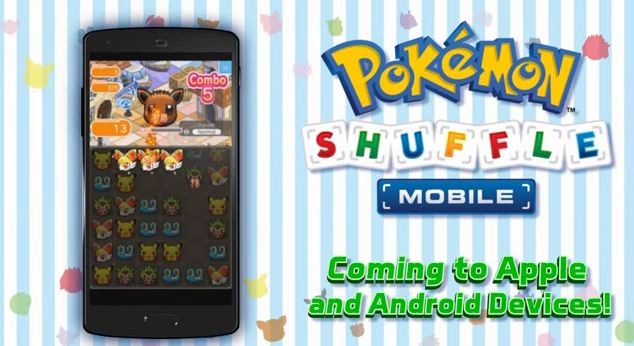 Developer Genius Sonority released a new game, Pokemon Shuffle, to Android and iOS users. Pokemon Shuffle is a freemium puzzle game, popular among Nintendo 3DS users, that has been ported to mobile platforms now.
Below are the Cheats, Tips and Tricks for Pokemon Shuffle:
First Optimise: The player needs to optimise his/her team before they take on any Pokemon in the game. Doing this will automatically load the four giving slots. This will give players the best Pokemon to fight the rival.
Familiarity of rival Pokemon Abilities: The players must know that some Pokemon have active and some passive abilities. So, they need to read into the details of the rival Pokemon very closely. One example is the 'Power of 4' ability where damage can be inflicted if matched with four Pokemon.
Defeating Pokemon with Lesser Moves: The players must try to defeat a Pokemon with lesser moves, meaning they still have some moves in their kitty. This will garner them extra points and double their chances of capturing a Pokemon. Being efficient with the moves will help the players.
Combos are Key: It is known that in these types of puzzle games, combos play a crucial role. Although they might not entirely defeat it, it might damage to the Pokemon's HP.
[READ ALSO: Pokemon Shuffle: Now Available for Download on Android and iOS Platforms]
Match Powerful Pokemon: The players must try to match theirs with the rival Pokemon for better attacks. They will earn better damage by attacking rival Pokemon with something so that it is weak again, so get as many advantageous Pokemon as possible.
Mega Evolve: The players need to make sure that they match a Pokemon that can Mega Evolve with a similar kind. After it evolves, they will have unlocked special abilities. The players have also been advised to experiment with every mega stone they get in the game.
Get the Codes from 3DS: The players, who have already played the game on Nintendo 3DS, will get the redeemable codes for Pokemon Shuffle Mobile. One such code is for Pokemon Lucarionite, which can Mega Evolve into Lucario.
Seek Event Levels: Once the players of Pokemon Shuffle Mobile have received Mega Audino, they will get access to Event Levels. Though these events are periodic, they offer players the chance to capture some rare Pokemons.
Battle Trainers: The players can battle with trainers as it will fetch them higher rewards.
Play in Expert Levels: Playing in expert and special levels will also fetch the players some higher rewards. Also, they will have unlimited movies, but will come with a limit on time.
Change Date and Time: The players can change the date and time settings on the cell phone and forward by two-and-a-half hours. This will get the hearts back instantly, half hour for each heart (there are four hearts).
Go Back to Old Levels: Doing this will help the players earn some coins.
[Source: Touch Play]