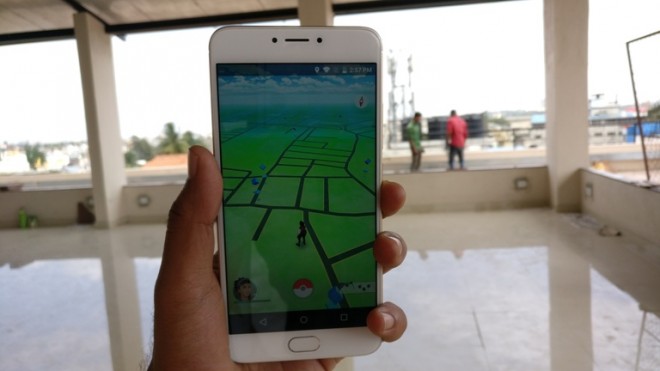 Nintendo's Pokemon Go has been the buzzword among mobile game lovers ever since it was released a few days ago. It is reported that gamers in the countries where the augmented reality mobile game has been released have run into trouble and even injured themselves because of too much concentration on the game. The game is yet to be launched in India, however, several people have started playing it by installing via APK file, though it is an unofficial application software with possible threat of malware.
Pokemon Go was first released in three countries -- the United States, Australia and New Zealand -- on July 6 before releasing in the UK, Germany, Portugal, Spain, Italy and Canada. It is expected to come to Asia, including India, very soon, as the company is planning to release it in about 200 countries.
No wonder Pokemon Go has become such a craze overnight, as it is adventurous in nature. One can't play it within the four walls of the room, so it is a must to go out and catch Pokemon across the street, in the park, etc. It drains battery, as players have to enable GPS, Camera, internet and AR. It's a common problem, but it appears like Indians may face more issues than people from most other countries while playing the game.
[READ: 5 simple ways to save battery life while playing Pokemon Go]
Here are the biggest probable problems Indian gamers may face while playing Pokemon Go:
Internet
One can't play the game without continuous internet connection, but networks are awful in some locations, even in metro cities. So, mobile phone game lovers in small towns and villages could be left disappointed even more than their counterparts in cities, as internet network can be terrible in remote areas.
Indian roads
The game warns players to be alert of their surroundings. If one is to go by that, gamers in India have to be extra careful, as Indian roads are dangerous for pedestrians. People breaking traffic rules is not an uncommon scene, and two-wheelers ply even on the pavements. This may pose problem to Pokemon Go players, as they need to look at their phone screens to look for signs of Pokemon and landmarks.
[Read: Pokemon Go cheats and other apps are malicious: How to keep your smartphone safe]
Public
Poor internet network will force gamers to walk slowly, and even pause whenever the signal is weak. However, standing and loitering in front of somebody's house, especially during night, can turn ugly. People can suspect them for robbers and blow things out of proportion.
Playing Pokemon Go, which is compatible only to Android and iOS devices, can be dangerous if players concentrate too much on the game giving much attention to their surroundings. Alertness of one's surroundings is a must.