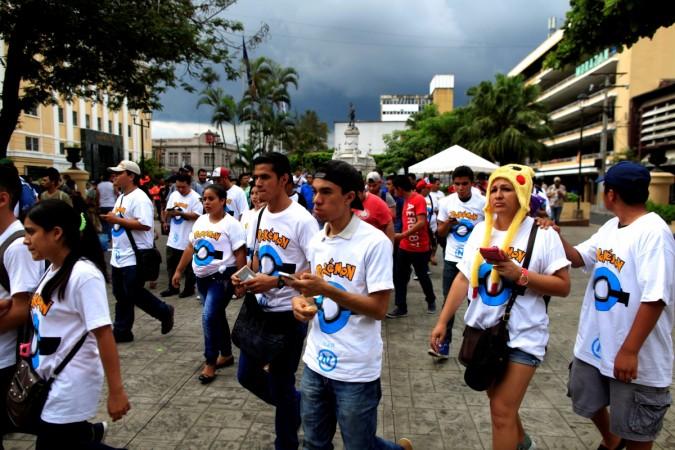 Some of the world's biggest gaming markets are in Asia, but developers Nintendo and Niantic do not seem very keen on releasing its popular game "Pokemon Go" in the region. It is more than a month since the augmented reality (AR) mobile phone game was released in several countries across the globe, but most Asian countries, including India, China, South Korea, Saudi Arabia and United Arab Emirates are yet to get it.
Developers of the game had earlier confirmed that the game would be released in about 200 countries, but its roll out has been slower than expected. Several gamers turned to APK files and VPN (Virtual Private Networks) to play the game, but that too has been banned now. It was earlier speculated that the viral game would come to a few countries like India, China, Saudi Arabia and others in August, but it appears that won't happen with the makers of the game keeping mum on its release.
"Pokemon Go" was at one point of time the most popular mobile game with 75 million downloads in just 19 days, beating other games like Color Switch, Slither.io, Candy Crush Jelly Saga, Agar.io, and Piano Tiles 2, but its popularity seems to have taken a nosedive of late. It is reported that the number of "Pokemon Go" players have decreased drastically in the United States, a month into its release.
The game has already been released in a few Asian countries like Brunei, Cambodia, Hong Kong, Indonesia, Japan, Laos, Malaysia, Philippines, Singapore, Taiwan, Thailand, and Vietnam, but it is not being accepted well in some countries. For instance, the Vietnam government has restricted gamers from playing in certain areas like offices of the Communist Party, the military and national defence sites and other restricted areas.
Cambodia too has banned playing of "Pokemon Go" in select places, and Thailand government has started a crackdown on people playing the game while driving. The Thai traffic police have reportedly arrested 42 motorists for playing the game while driving since the campaign against it started on Monday. Violators have to pay a fine of Bt400 (around Rs. 800).
The release of "Pokemon Go" in India too could be delayed with a PIL being filed in the Gujarat High Court seeking a ban on the game citing a possible chaos after its release in the country. It appears like the reports of a stampede-like situation caused by "Pokemon Go" players in Taiwan and the death of a Japanese woman, who was run over by a speeding car while she was crossing the road, may not help the release of the game in several countries. The game has already been banned in Iran over safety concerns.
Asian countries that are yet to get the VR game include Azerbaijan, Qatar, Armenia, Jordan, Saudi Arabia, Bahrain, Kazakhstan, Bangladesh, Kuwait, South Korea, Bhutan, Kyrgyzstan, Sri Lanka, Brunei, Syria, Burma, Lebanon, Tajikistan, China, Maldives, East Timor, Mongolia, Turkey, India, Nepal, Turkmenistan, North Korea, United Arab Emirates, Iran, Oman, Uzbekistan, Iraq, Pakistan, Israel, and Yemen.
"Pokemon Go" is a free augmented reality mobile phone game that lets players catch virtual characters in real life environment. It is currently available only for iOS and Android platforms.