After earning titles like "flagship killer" and "cheapest Snapdragon 845 smartphone," Poco F1 also raked record sales and a lot of appreciation along with awards from top reviewers in the industry. Celebrating its success, Poco India's general manager, C Manmohan confirmed the arrival of a new Poco phone.
Is it Poco F2 or a new variant of Poco F1? The mystery doesn't just end there. Manmohan's tweet doesn't reveal when the official launch of the "new Poco" is taking place. But the head of Pocophone Global, Alvin Tse decided to jump into the conversation and hinted that the new Poco phone could come around Christmas.
The interesting exchange of tweets between the top execs at Xiaomi and Poco confirms that a new phone is indeed arriving, but that's about it. For more information, we must wait for the next teaser or Christmas.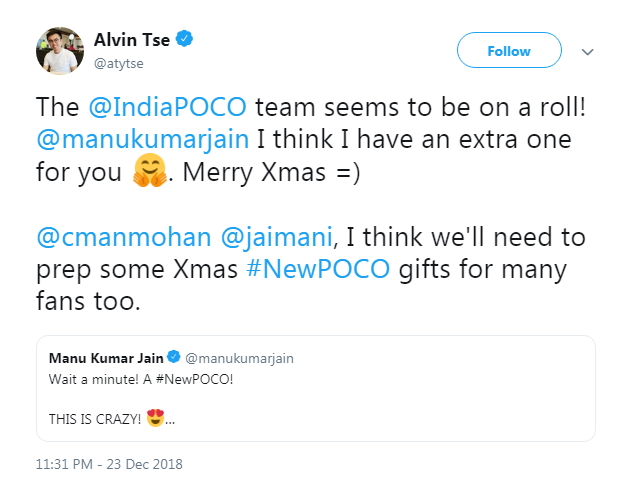 Assuming it is the Poco F2 as some reports suggest, there is little evidence to support the claim. We haven't heard anything about the Poco F2 except for Flipkart suggesting in October that the Poco F1 successor is not due for another eight months. Clearly, Poco won't just launch a major flagship without building enough hype for the phone.
Xiaomi launched its Poco F1 only in August, which doesn't even complete a year in the market for the flagship. Since the company has quite a few variants of the Poco F1, we are guessing the "new Poco" is a new variant of Poco F1 rather than it being the Poco F2.
To recall, Poco had launched its F1 smartphone in Kevlar Armoured Edition, but it was limited to the high-end 8GB RAM and 256GB storage variant. Mobile tipster Ishan Agarwal had recently suggested that the Kevlar Back could soon come to 64GB and 128GB variants of Poco F1.
It makes sense for Poco to launch the Kevlar Back in 6GB RAM models of Poco F1 this holiday season as many fans had requested it since the beginning. But nothing is concrete until we hear the news from the company. Stay tuned.