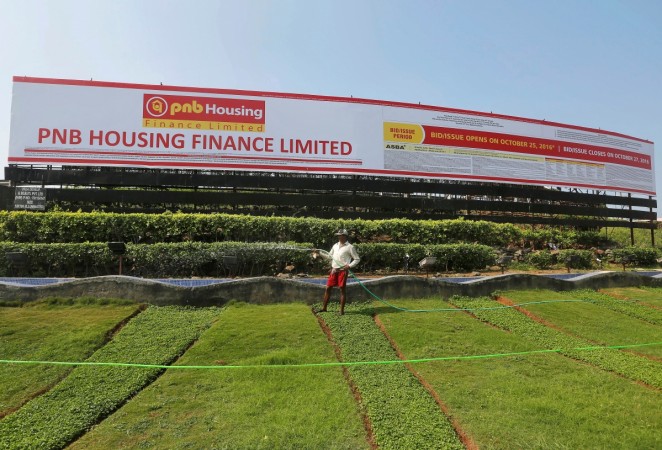 PNB Housing Finance, whose Rs 3,000-crore initial public offering (IPO) was oversubscribed almost 30 times, will keep investors on the tenterhooks, given that ICICI Prudential Life Insurance also saw 10 times oversubscription but listed at a discount on September 29. Curiously, in both the issues, the retail portion saw tepid response, of about 1.30 times.
ICICI Prudential Life Insurance listed at 1.5 percent discount to the issue price of Rs 334 and closed almost 11 percent lower on its first day on the stock exchanges (September 29).
The PNB Housing Finance public issue was the second largest this year, after ICICI Prudential Life Insurance's Rs 6,057 crore last month.
The price band for PNB Housing Finance shares was Rs 750-775 per equity share of Rs 10 each and the three-day offer closed on September 27.
The company raised Rs 894 crore from anchor investors by issuing shares at the upper end (Rs 775) of the price band.
Some of the anchor investors who were allotted equity shares included General Atlantic Singapore Fund FII Pte Ltd. (5.22 percent of total anchor portion); Government of Singapore (5.40 percent); Monetary Authority of Singapore (2.06 percent); SBI Life Insurance Company (2.60 percent); HDFC Prudence Fund (4.02 percent) and Neuberger Berman Emerging Markets Equity Master Fund L.P. (2.60 percent), according to a statement issued by PNB Housing Finance.
Public sector lender Punjab National Bank (PNB) has 51 percent stake in the company, which will come down to around 35 percent after the public issue.
For the financial year ended March 31 2016, PNB Housing Finance had reported net profit of Rs 326 crore, up 66 percent from Rs 196 crore in the preceding fiscal, while revenues rose 52 percent to Rs 2,697 crore. Assets under management stood at Rs 27,555 crore as of March 31 2016.
Gross non-performing assets (NPAs) and net NPAs stood at 0.22 percent and 0.14 percent, respectively, at the end of financial year 2015-16.
The global coordinators and book running managers for the public issue were Kotak Mahindra Capital Company Limited, DSP Merrill Lynch Limited, J.P. Morgan India Private Limited and Morgan Stanley India Company Private Limited.