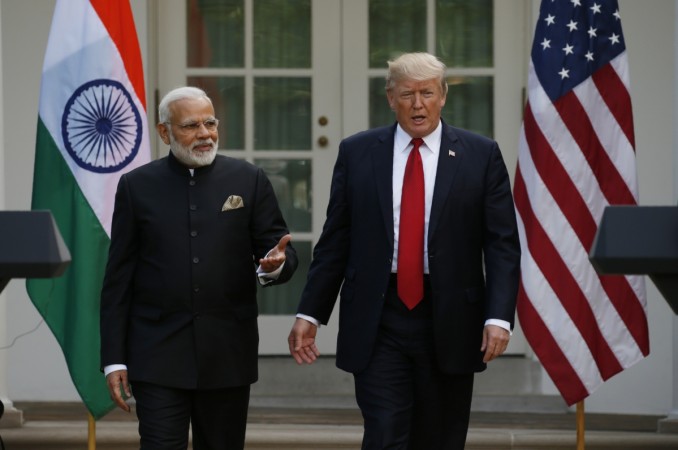 Prime Minister Narendra Modi and United States President Donald Trump are likely to engage in a bilateral meeting on the sidelines of the Association of Southeast Asian Nations (ASEAN) summit in Manila in the Philippines on Monday.
The two leaders are expected to hold a 45-minute talk on Monday afternoon.
While Modi will reach Manila on Sunday to attend the 15th ASEAN-India summit and the 12th East Asia summit on November 14, Trump is likely to arrive in Manila the same day, as part of his visit to the region during his outreach to Asia.
Trump is on five-nation tour to Japan, South Korea, China, Vietnam, and the Philippines.
Modi will be accompanied by National Security Advisor Ajit Doval, Foreign Secretary S Jaishankar and a few other top diplomatic and security officials during his Manila visit.
Reports have claimed that the Modi and Trump are likely to discuss key issues of mutual interest, including the security scenario in the region
Trump praises Modi for India's growth
The bilateral meeting comes just three days after the US President commended India and Modi for the country's "astounding growth". He made the statement on the sidelines of the Asia-Pacific Economic Cooperation summit in Vietnam on Friday.
"Since India opened its economy, it has achieved astounding growth and is a new world of opportunity for its expanding middle class," Trump said.
"Prime Minister Narendra Modi has been working to bring that vast country and all of its people together as one, and he's working at it very, very successfully, indeed," Trump added.
Trump had met Modi in the White House during the latter's US visit in June.
India will also be holding a quadrilateral grouping, involving Japan, the US and Australia.
When Japan had proposed to hold the quadrilateral meet in order to boost a strategic partnership among the four countries, both India and the US were keen to have a discussion. India had said it was open to working with like-minded countries on issues that advance its interests, reported NDTV.
Expecations run high
Modi has high hopes from his visit to Manila as it is expected to improve India's relation with the US.
"I am confident that my visit to Manila will give a new boost to India's bilateral relations with the Philippines and also further strengthen the politico-security, economic and socio-cultural pillars of our engagement with ASEAN," Modi said in a statement before his visit.
The prime minister will also be participating in the Regional Comprehensive Economic Partnership (RCEP) Leaders' Meeting, International Rice Research Institute (IRRI), Mahavir Philippines Foundation Inc (MPFI) and the ASEAN Business and Investment Summit.