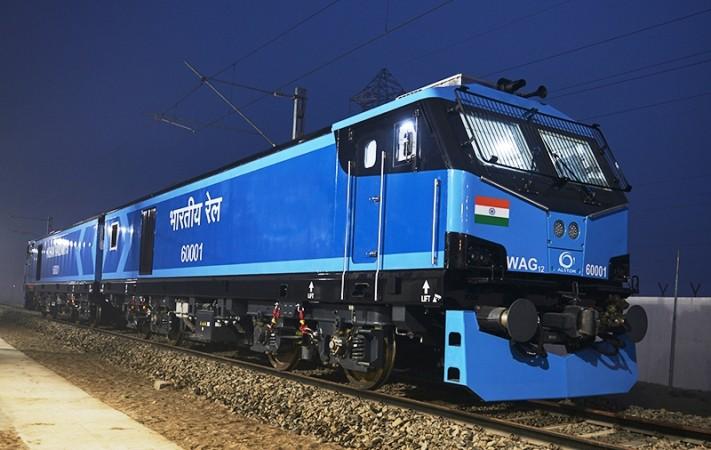 Prime Minister Narendra Modi flagged off India's first all-electric high-speed locomotive Tuesday during his visit to Bihar.
PM Modi also flagged off a new bi-weekly train called Champaran Humsafar Express and announced Rs 6,600 crore worth projects to the north Indian state of Bihar.
The prime minister visited Champaran district in Bihar and took part in the valedictory function of centenary celebrations of Champaran Satyagraha, which is considered as the first civil disobedience movement against the British rule in India.
One of the highlights of Modi's visit was the launching of India's most powerful electric high-speed locomotive, a project completed by Alstom of France.
Here are the top seven facts you need know about the all-electric locomotive
1. The all-electric high-speed train is the first big Make-in-India project. Developed at Madhepura's Electric Locomotive Factory in Bihar, the locomotive is produced by Alstom.
2. The double section locomotive has 12,000 horsepower, making it India's most powerful electric high-speed engine.
3. The Alstom's electric locomotive has a hauling capacity of 6,000 tonnes and a speed of 120km per hour. The heavy haulage locomotives will be used to transport coal and iron ore, reports Business Standard.
4. Equipped with IGBT-based propulsion technology, the locomotive will be compliant to Indian standards of freight transport and will have the ability to endure tough Indian climate and conditions.
5. The electric locomotive has been introduced with the Indian Railways' target of achieving 100% electrification in mind. The electric locomotive is expected to bring down operating cost and cut down greenhouse gas emissions.
6. This is the first of 40 locomotives that are expected to roll out of the Madhepura's Electric Locomotive Factory by the end of March 2020. Alstom is expected to deliver a total of 800 high horsepower locomotives over a period of 11 years.
7. With the launch of the all-electric locomotive, India enters the group of Russia, China, Germany and Sweden that have successfully run 12,000 horsepower and above capacity electric locomotives.