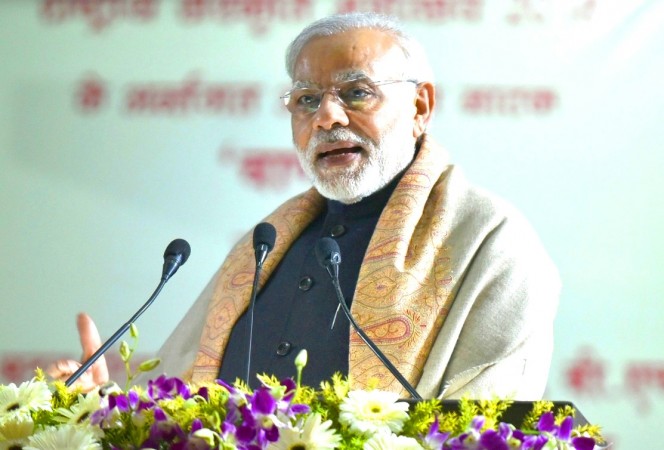 Prime Minister Narendra Modi is all set to deliver a year-ender speech at 7:30 pm on Saturday, December 31, the day after the 50-day period of demonetisation — which began on November 8 — ended. People are both eager and apprehensive about this speech: Eager because Modi may announce some new public welfare scheme, and apprehensive because he may announce another harsh step like demonetisation.
Also read: PM Narendra Modi's speech live: Where to watch the prime minister's New Year's eve address to the nation online
There are a number of topics Modi may speak on, the primary being demonetisation. He is expected to detail the effects of the move: how much it has helped the government and the people, and other details. He has already done something of this sort by releasing the BHIM app to help people conduct cashless transactions.
Another topic he may speak on is the upcoming Budget 2017, for which he may ask for suggestions. He is also expected to announce something related to it, having already met experts and economists recently in the run-up to the annual exercise.
Keep your eyes on this space to learn what the prime minister is saying. Here is the live blog:
8:15 pm IST: Modi invokes the Champaran Satyagraha 100-year anniversary, and Mahatma Gandhi and his ways, urging people to follow him.
8:12 pm IST: Now we move on to digital transactions and cashless economy. Modi urges the poor and farmers to adopt it in a greater scale.
8:10 pm IST: Political parties being discussed now. They should shed their "holier than thou" attitude, says the prime minister. Modi calls for Lok Sabha and all assembly elections happening together.
8:07 pm IST: All districts will see pregnant women being given Rs 6,000 in their bank accounts for registration, delivery, vaccination and nutritious food and other things.
For seniors citizens: 8 percent interest rate for 10 years on amounts of up to Rs 7.5 lakh.
8:05 pm IST: Interest for those businessmen who earn Rs 2 crore will be calculated on 6 percent of income, instead of 8 percent of income.
8:02 pm IST: MSMEs will get more loans, with governments giving banks credit guarantees. This will also include loans given by non-banking financial entities, or NBFCs.
8 pm IST: "60 days' loan interest of farmers who took them from cooperative societies will be borne by the government. This will directly go to their accounts."
Also: Change in RuPay cards will let farmers withdraw cash anywhere.
7:56 pm IST: "A 3 percent discount on interest on loans for rural house expansion" is annoucned.
7:55 pm IST: "New schemes are coming on New Year for 'Sabka Saath Sabka Vikaas'," he says.
"Black money put housing out of the reach of the middle class. Pradhan Mantri Avaas Yojana has two new schemes now. A discount of 4 percent in interest will be given to loans of Rs 9 lakh, and discount of 3 percent interest to loans of Rs 12 lakh for building houses," he says.
7:52 pm IST: "Banks should come out of their primary goals and work with the middle and lower clas in mind," he says.
7:50 pm IST: "Technology has helped us tell the dishonest that their ways will no longer work. They will have to come back to the mainstream," says Modi.
The prime minister praises the banking system and its employees for the work they have done since demonetisation. He also talks of bank and government employees who were caught during this time participating in corruption: "They will not be spared."
7:48 pm IST: "Demonetisation has hit terrorists, Maoists, and people connected with drug trade and human trafficking," he says.
7:46 pm IST: "This government is a friend of the good, and is all for creating an environment to bring the bad to the path of righteousness," he says.
7:44 pm IST: "It is a good indication for any country where the masses cooperate with the government to return to the mainstream," he says. "Many people have said they want to shun black money and return to the mainstream."
"The information with the government says only 24 lakh people have earnings more than Rs 10 lakh," he informs listeners.
7:42 pm IST: "Rs 500 and Rs 1,000 notes were for the past few years being used mostly in the parallel economy. They were leading to more inflation and black marketing," he says. "If cash is taken out of economy, it is problematic, but once it enters the mainstream, it leads to progress."
7:40 pm IST: "125 crore Indians have set the foundation for a bright future," says PM Modi. "I know that you had to suffer and wait in line to taake out your own money. I received many letters during this time, about your problems and offering suggestion..."
He adds: "The government has instructed the authorities to bring the banking system to normalcy as soon as possible."
7:36 pm IST: "People have lived the saying: 'Kuchh baat hai ki hasti mit-ti nahi hamaari'," he says.
7:34 pm IST: "Even the honest had to the accept black money and corruption... But people showed after Diwali they were yearning to break free from them," says Modi.
7:32 pm IST: He just greeted the people. PM Modi is LIVE! He calls demonetisation step after Diwali a "shuddhi yagna" [purification exercise] that will help determine the direction of the country for many years to come.
7:25 pm IST: Brely hours before the year ends and merely minutes before the prime minister speaks.
6:30 pm IST: Just an hour to go before the speech, and the speculation is flying thick and fast. While some anticipate a ban on the new Rs 2,000 note, others think it might be a total ban on alcohol, as has been implemented in some states already.
5:30 pm IST: Looks like some people have gamified this all-important speech. A pub chain spread across the country is offering beer and shots at just Rs 31 each time Modi uses the word "Mitron" during the spech. Of course, terms and conditions apply.
4:30 pm IST: Everyone is waiting eagerly for Modi's year-end speech, but it is still a few hours away. There is, however, no dearth of speculation on what he is going to say.