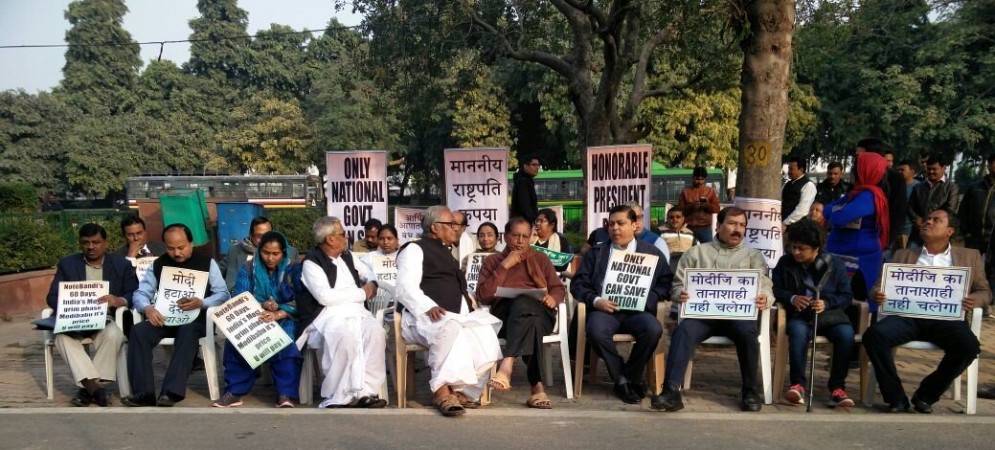 The Trinamool Congress continued its protests against demonetisation in New Delhi on Monday, even as speculation arose that they had been placed under surveillance to possibly deter them from springing surprise protests, like the one from Wednesday last week when party MPs had entered the Prime Minister's Office (PMO) and had to be shunted out.
The Trinamool Congress has been protesting against Prime Minister Narendra Modi for a number of reasons, the latest of which is the arrest of two of its MPs in connection with the Rose Valley chit-fund scam. Even otherwise, West Bengal Chief Minister and party supremo Mamata Banerjee has been vocal against demonetisation, going so far as to demand the resignation of PM Modi. The BJP leader, it seems, has grown wary of these protests.
Trinamool sources told International Business Times, India, that there was indeed an increased police presence in and around the residences of Trinamool MPs in New Delhi. "The police presence here is more than usual, and they do seem to be police vans. However, we have not been given a reason behind this heavy police presence," the source told IBTimes India.
The buzz in political circles is that the increased police presence is a form of surveillance on the Trinamool leaders so that the Union government doesn't want to get caught on the wrong foot, like last Wednesday, when they made their way into the PMO and had to be physically booted out.
The Delhi Police, however, are either unaware of the increased surveillance on South Block, or not in a mood to share. While the Delhi Police public relations office was of no help when contacted by IBTimes India, the special commissioner they asked us to contact could not be reached despite several attempts.