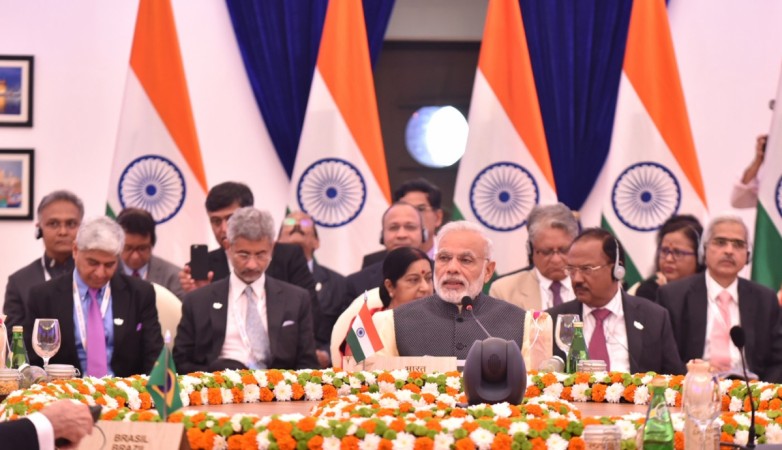 Speaking at an event at BRICS Business leaders in Goa, Prime Minister Narendra Modi on Sunday said that India has carried out a number of reforms in the last two years in a bid to boost the ease of doing business in the country. Addressing the businesses from the BRICS nations, Modi also appealed to the BRICS community to strenghten mutual trade, enhance business opportunities and promote innovation.
While addressing the meeting of the BRICS countries (Brazil, Russia, India, China and South Africa) in Goa, the Indian Prime Minister said, "In India, we have undertaken substantial reforms in the last two years to streamline and simplify governance, especially doing business in India.The results are clearly visible."
In addition, he also said that the government has transformed India into one of the most open economies in the world in the present day and age. "Growth is strong and we are taking steps to keep the momentum going," he further added.
Talking to the business leaders, Modi also said that the five-member committee is a particular force which would push the nations towards commercial cooperation. "I am happy to note that the BRICS Business Council also has matching priorities of ease of doing business, dismantling trade barriers, promoting skills development, establishing manufacturing supply chains and infrastructure development," Modi added.
New Development Bank
While speaking about the New Development Bank (NDB) which was set up by the BRICS countries, Modi said that the bank has kept clean energy and green and sustainable infrastructure as its priority.
"We would encourage the BRICS Business Council to work closely with the NDB on identifying and implementing prospective economic project," he added.
Watch the video of Prime Minister Narendra Modi speaking at BRICS Business Council meeting in Goa: