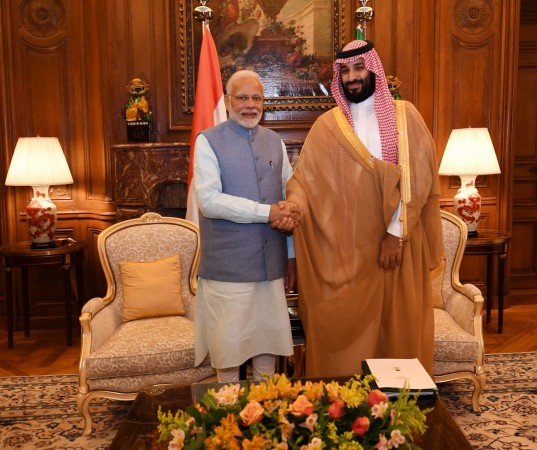 Prime Minister Narendra Modi discussed bilateral relations and major global developments with Saudi Arabia Crown Prince Mohammed bin Salman on the sidelines of the G20 summit in Argentina.
"Had a fruitful interaction with Crown Prince Mohammed bin Salman Al Saud," PM Modi said in a Twitter message with a photograph with the Saudi prince after the meeting late on Thursday.
The two leaders discussed investments in technology, renewable energy and food security. The meeting has special significance as the Middle Eastern nation is in the midst of major investments in the energy sector in India.
Though there have been reports critical of Prince Mohammed's presence at the summit in Argentina in view of his alleged role in the assassination of Saudi-born journalist and Washington Post columnist Jamal Khashoggi, New Delhi has steered cleared of the controversy.
New Delhi has been forging closer trade ties with Riyadh in view of its imminent withdrawal from trade relations with Iran following US sanctions.
"Deepening strategic ties. PM @narendramodi met with Crown Prince of Saudi Arabia Mohammed bin Salman Al Saud on the sidelines of #G20Argentina. Discussed enhancing Saudi investment in technology, infrastructure, petroleum, renewable energy, food security, fintech & defence sectors," External Affairs Ministry spokesperson Ravish Kumar tweeted.
Trilateral meeting
"In recent years, the Kingdom of Saudi Arabia has been a valuable partner. The relationship has expanded beyond the Indian community to issues related to the economy, energy and security. All issues of bilateral and regional interest will be discussed," PMO sources told a news agency.
In a tweet on Friday morning, PM Modi said he met UN Secretary-General Antonio Guterres with whom he discussed the global challenge of climate change. PM Modi was meeting Guterres for the second time in as many months. The meeting comes two weeks ahead of the COP24 climate change meeting in Katowice, Poland, a newswire report said.
PM Modi is expected to hold a trilateral meeting with US President Donald Trump and Japanese premier Shinzo Abe, with spurred by the concern that these nations share on China's increasing influence on the Indo-Pacific region. HIs bilateral meetings include those with Chinese President Xi Jinping and German Chancellor Angela Merkel.
"Looking forward to a wide range of interactions at the G-20 Summit, aimed at furthering sustainable development," Modi tweeted soon after he landed in Buenos Aires.
Earlier, PM Modi had addressed a yoga conference at which he expressed happiness at the enthusiasm with which the world has accepted yoga.