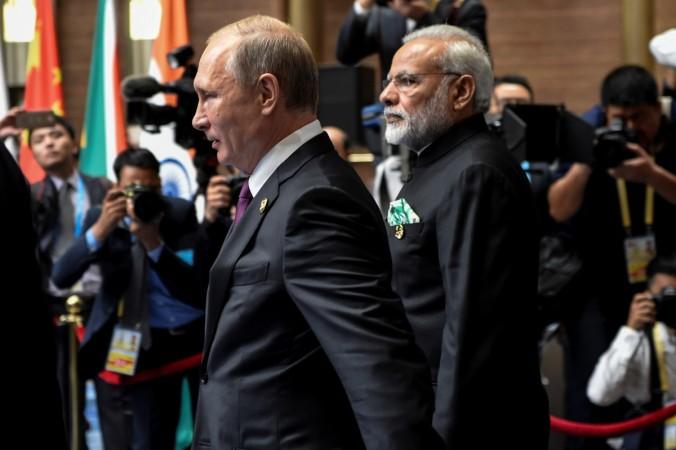 Indian prime minister Narendra Modi is all set to meet Russian president Vladimir Putin for an informal summit held on May 21 at a seaside resort in the coastal city of Sochi in Russia. The meeting comes just weeks after Modi interacted with Chinese president Xi Jinping at the Wuhan summit.
According to reports, the decision to hold the summit was a last-minute move taken by Russia following an unannounced visit to Moscow by India's national security advisor Ajit Doval and foreign secretary Vijay Gokhale, the Times of India reported.
The announcement for the Putin-Modi summit was made by the Ministry of External Affairs on May 14 as it said:
"This will be an important occasion for the two leaders to exchange views on international matters in a broad and long-term perspective with the objective of further strengthening our Special and Privileged Strategic Partnership. Both leaders will also discuss their respective national developmental priorities and bilateral matters."
"This informal Summit in Sochi between Prime Minister Modi and President Putin is in keeping with the tradition of regular consultations between India and Russia at the highest levels," the MEA further stated.
The meeting between the two world leaders comes as a surprise as both Modi and Putin are set to meet quite a few times this year.
Modi is also said to meet Putin at the Shanghai Cooperation Organisation summit held in Qingdao in the month of June. President Putin is expected to come to India in the second half of the year for the annual India-Russia summit.
According to New Indian Express, the world leaders will also be interacting at the BRICS summit in South Africa followed by the G-20 summit in Argentina.
India and Russia have been part of 18 formal summits owing to the strategic partnership signed between the countries in 2000. The last time the two leaders met was in St Petersburg where Modi addressed the St. Petersburg International Economic Forum (SPIEF) with the Russian president.