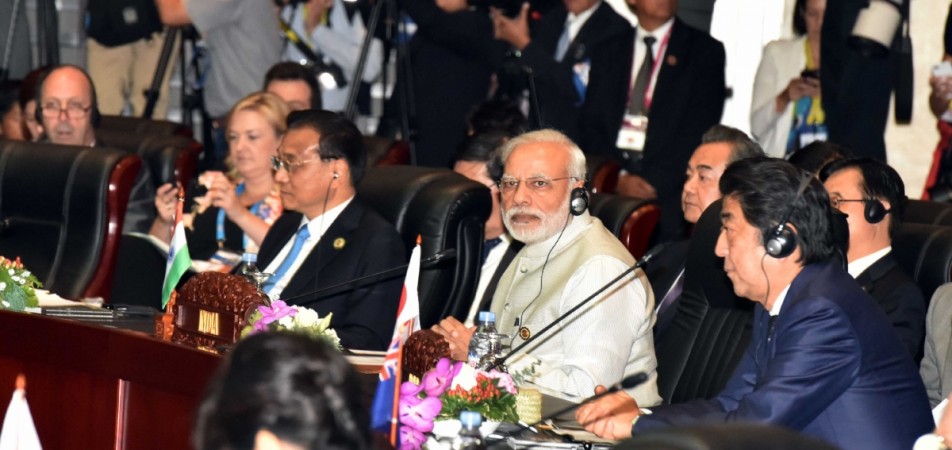 Prime Minister Narendra Modi continued his attack on Pakistan over terrorism, saying at the 11th East Asia Summit in Vientiane, Laos, on Thursday that there was only one country among India's neighbours that relied solely on "producing and exporting terrorism" to gain a competitive advantage.
Although he did not name any country in his speech, he was clearly pointing to Pakistan, quite like how he did while addressing world leaders at the G20 summit in Hangzhou, China, on Sept. 5. Back then, he had said: "A single nation in South Asia is spreading agents of terror in our region."
Speaking to leaders at the East Asia Summit on Thursday, Modi said: "Terrorism is the most serious challenge to open and pluralistic societies. Combating it requires collective effort. We need to target not only the terrorists but also their entire supporting ecosystem."
He then added: "Our strongest action should be reserved for those state actors who employ terrorism as an instrument of state policy."
Modi continued: "There is one country in our neighbourhood whose competitive advantage rests solely in producing and exporting terrorism. This export is reducing space for peace, and increasing space for violence. It is also putting at risk peace and prosperity of all."
Modi's words were seen as a further push by him to isolate Pakistan not only in the region but also at the world stage on the issue of terrorism. The sole aim of this is to get Pakistan to act on terrorism being supported on its soil. India recently received a boost in this respect when the United States said it wanted to see justice and accountability from Pakistan for the 2008 Mumbai terror attacks, which are now better known by the date the attack started — 26/11.
In his speech, Modi also made a reference to China's claims on waters of the South China Sea. He said: "Sea lanes of communication passing through the South China Sea are the main arteries of global merchandise trade. India supports freedom of navigation over flight and unimpeded commerce based on principles of international law."