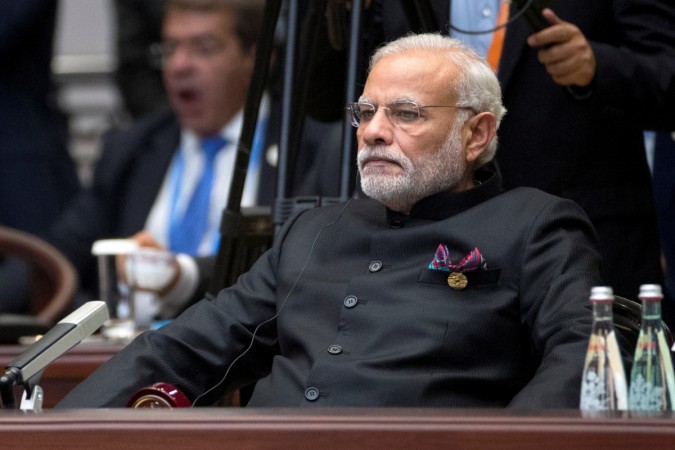 Addressing the world leaders during the G20 Summit, Prime Minister Narendra Modi said that there was a need for a "collective, coordinated and targeted action" by the members of the Group of 20 to revive the growth of global economy.
"We meet at a time when the global situation faces complex political and economic challenges. A frank, even a difficult conversation won't be enough. What G20 needs is an action-oriented agenda of collective, coordinated and targeted action," PM Modi said on Sunday while charting out his agenda for structural reforms to revive the global economic growth.
The PM, during the Summit, said that there was a collective need to improve the financial system, enhance infrastructure investment, boost domestic production and to create a pool of human capital.
PM Modi also met the deputy Crown Prince of Saudi Arabia Mohammad bin Salman in China's Hanzhou and discussed steps to enhance ties between the two nations particularly in areas like maritime security and energy.
Follow the live updates here:
4:00 p.m. IST: PM concludes final session intervention by thanking President Xi Jinping for the hospitality over the last two days.
3:55 p.m. IST: Global and Public health security an important issue. Need global partnership in sharing new vaccines and access to affordable drugs for developing world: Modi.
3: 50 p.m. IST: PM Modi urges international community to act in unity and respond against terrorism.
3:45 p.m. IST:
3: 30 p.m. IST: Must uphold principles of equity and CBDR and curb reckless consumption and also encourage lifestyles in harmony with nature: Modi.
3: 20 p.m. IST: "Have to safeguard climate justice which requires affordable financing and environmentaly sound technology for developing countries," PM Modi says.
3: 15 p.m. IST: "Foremost challenges is Climate Change where Paris Agreement showed a way forward. Out focus shouldn't just be on early ratification, but also full success," PM Modi says.
3:10 p.m. IST:
3: 00 p.m. IST: Last session on "Other Issues Affecting World Economy" begins in G20 Summit. "Many global issues may not seem economic but,carry significant economic cost," says PM Modi.
1:00 p.m. IST: PM Modi concludes his speech with flagging India's vibrant collaboration with Africa. Mentions re-affirmation of partnership at IAFS last year.
12: 55 p.m. IST: Modi during the session also emphasised Collaborative action over the next 15 years and laid out specific actions world can take.
12: 45 p.m. IST: PM Modi highlights how Agenda 2030 could be an enabler to transform societies and bridge deep inequalities
12: 30 p.m. IST: Working lunch starts with discussions on 'Inclusive and Interconnected Development.' PM Modi says, "Goal to put everyone on path of development is not just an aspiration. Domestic policy and action must get support from international regimes and frameworks."
11:50 a.m. IST: PM Modi meets Turkish President Recep Tayyip Erdogan in another pull aside, renews ties with the Turkish President.
11:30 a.m. IST: "Global investment principles shouldn't be prescriptive. Countries need policy space depending on national circumstances and devlopmental focus, says PM Modi.
11:20 a.m. IST: G20 needs to act to stimulate investment flows. Transformed and liberalised investment regime has put India among top host nations for FDI: PM Modi.
11:10 a.m. IST: Knowledge and innovation driven economy requires free mobility. India's priority is to work towards Trade Facilitation Agreement for Services: PM Modi
11.10. a.m. IST: "Vision of transparent, equitable, non-discriminatory, open, inclusive and rule-based global trading arch. should underpin collective efforts," PM Modi says.
11: a.m. IST: PM Modi begins Session 3 of the G20 Summit on "Robust Internatinal trade and Investment", says "Global trade is at a cross roads".
10: 50 a.m. IST: PM Modi also met French President Francois Hollande to discuss strategic partnership.
10: 35 a.m. IST: PM Modi and PM May agree to strengthen the strategic partnership between the nations. PM Modi invites UK PM to India.
10:30 a.m. IST: PM Narendra Modi meets UK PM Theresa May for first bilateral talks.
10: 15 a.m. IST: PM Modi ends his speech by saying, "We need energy to support developmental needs. Balanced mix of nuclear, renewable energy and fossil fuels are at the core of our policy. Thanks for unreserved support to ISA."
10: 10 a.m. IST: "G20's efforts shud be for zero tolerance for corruption and black money; zero administration, policy and treaty loopholes; zero barriers and full commitment to action," Modi says.
10: 00 a.m. IST: "Fighting corruption, black money and tax evasion central to effective financial governance," says PM Modi.
9: 50 a.m. IST: PM Modi emphasises: Long delayed 15th General Review of Quotas must be completed by 2017 Annual Meetings. "We need a regular dialogue between the IMF, Regional Financial Arrangements and Bilateral Swap Arrangements," Modi says during the Summit.
9: 40 a.m. IST: PM Modi highlights important points on why a stable global economic and financial system is imperative for growth
9:30 a.m. IST: PM Modi begins discussions on "More Effective & Efficient Global Economy and Finance" at the G20 Summit.