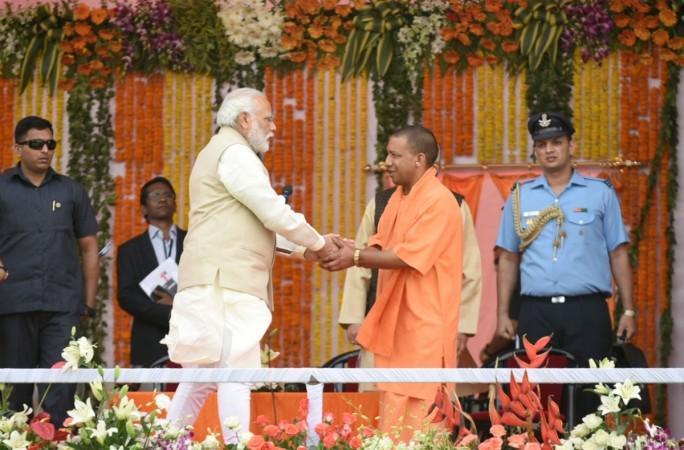 Prime Minister Narendra Modi arrived in at Shahjahanpur in Uttar Pradesh for a farmers rally on Saturday, July 21. Modi landed at the Trishul Air Base in Bareilly in a special Indian Air Force plane. He was received by UP chief Minister Yogi Adityanath and state BJP president Mahendra Nath Pandey.
The Kisan Kalyan rally will be Modi's first public address after the thumping victory at the no-confidence motion debate in Lok Sabha on Friday.
Farmers thronged the rally in large numbers from districts like Hardoi, Lakhimpur Kheri, Pilibhit, Sitapur, Bareilly, and Badaun, reports NDTV. This is Modi's third visit to the state in less than a month. it is believed to be extremely pivotal in the run-up to the general elections as UP has 80 Lok Sabha seats.
Shahjahanpur is known for having the biggest farmer 'mandis' or market in India. It is also a prominent sugar-cane growing district. Intermittent rains have been reported at the venue, where a large crowd gathered to hear Modi who would tell them of the various steps taken by his government in the past four years.
If the shocking defeat at the Phulpur and Gorakhpur constituencies were not troubling enough, the BJP's loss at the recent bypolls in Kairana and Noorpur has yet again left the saffron party in disbelief as they try to burnish their heavily scarred image in Uttar Pradesh ahead of the 2019 general elections.