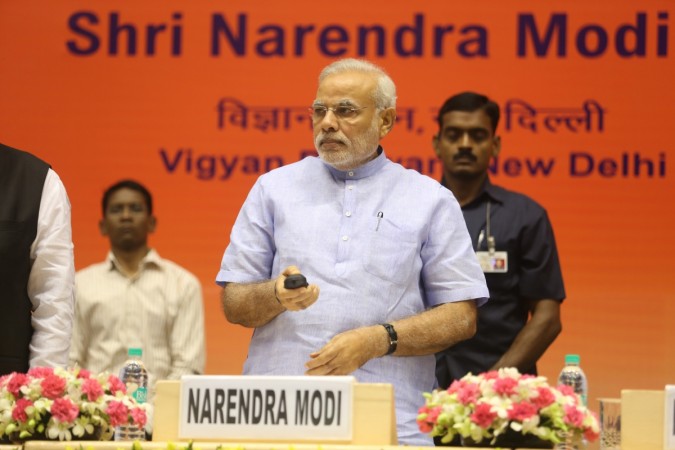 Prime Minister Narendra Modi has urged the citizens of the country to share their feedback on his decision to demonetise currency notes of Rs 500 and Rs 1,000 by logging onto the Narendra Modi App.
Modi said in a tweet: "I want your first-hand view on the decision taken regarding currency notes. Take part in the survey on the NM App. http://nm4.in/dnldapp."
The prime minister had announced on November 8 that currency notes of Rs 500 and Rs 1,000 would be demonetised and rendered invalid for all transactions and that all notes of these denominations must be deposited in banks by the end of 2016.
The government said that this decision had been taken to curb the black money menace in India and, therefore, had to be kept a secret.
However, the announcement has affected the country to a large extent with several deaths having been reported from across the country. Farmers and the agricultural sector have been specifically affected as they depend entirely on cash for all kinds of transactions when selling their produce.
Long queues outside banks and ATMs have now become a regular sight since the announcement, sometimes causing deaths of a few senior citizens. However, lakhs of people have been rendered without cash with banks and ATMs running out of the new Rs 500 and Rs 2,000 currency notes. ATM machines need to be recalibrated to disperse the new currency notes.
The Opposition has launched a scathing attack on the government for this sudden decision that they think was not "well thought out". There has been a huge uproar in both Houses of Parliament due to the demonetisation resulting in its adjournment. The Opposition has demanded that the prime minister be present in the House and address the concerns of the opposition parties and the citizens by explaining what made him take such a drastic step.
However, PM Modi has asked the citizens to give him "just 50 days" or time till December 31 to curb this problem of black money and also requested them to bear with "some temporary inconvenience" for the benefit of the country. He has also asked his party members to help and interact with the people standing outside banks and ATMs and explain to them why this step was taken.
I want your first-hand view on the decision taken regarding currency notes. Take part in the survey on the NM App. https://t.co/TYuxNNJfIf pic.twitter.com/mWv2frGn3R

— Narendra Modi (@narendramodi) November 22, 2016