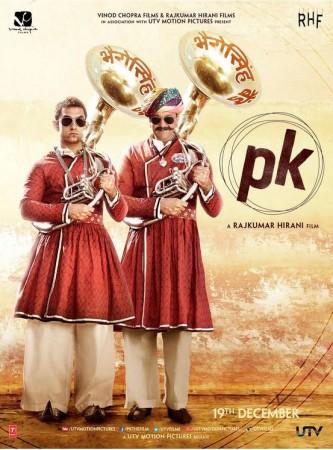 Aamir Khan-Anushka Sharma starrer "PK" had a phenomenal run at the box office in India, but the film will not cross ₹350 crore, according to trade experts.
From becoming the fastest ₹200 crore grosser to making ₹300 crore club, "PK" shattered several records at the domestic box office. Despite controversies, the comedy drama held the top spot at the box office for three consecutive weeks.
The film crossed ₹200 crore and shattered the records of "Dhoom 3". It went on to cross the ₹300 crore mark in India, but after that the film was expected to earn ₹350 crore.
However, it looks like that the film won't be able to achieve that mark since its business dropped as it entered the fourth week.
Trade analysts and film exhibitors predicted that "PK" would end its lifetime run with ₹340 crore net earnings. After the fourth weekend, the domestic box office collection of "PK" or "Peekay" stands at ₹329.13 crore.
To surpass the ₹350 crore mark, the film needs to earn more ₹20 crore. But looking at the current pace the film might not be able to achieve the mark.
According to exhibitor and distributor Akshaye Rathi, "PK" final net earnings would be ₹340 crore.
"It would have done better had all the religious uprisings not occurred. Since the theatres were being vandalised at certain places by the religious protesters, many avoided going to the cinema halls, thus affecting the collections a bit," Rathi told Financial Express.
Meanwhile, after India the film has opened with a bang at Pakistani box office. According to reports, the film has so far minted over ₹18 crore from box offices in Pakistan.
"PK has made over Rs18 crore in Pakistan and continues to attract movie-goers. It will be in cinemas until the end of January so I'm sure it will make a lot more," Hassaan Rizvi, Marketing Manager from Distributor Club (PVT) Ltd, told Dawn.
"The movie thrives because it entails a strong message, and of course because of Aamir Khan and Rajkumar Hirani," he added.