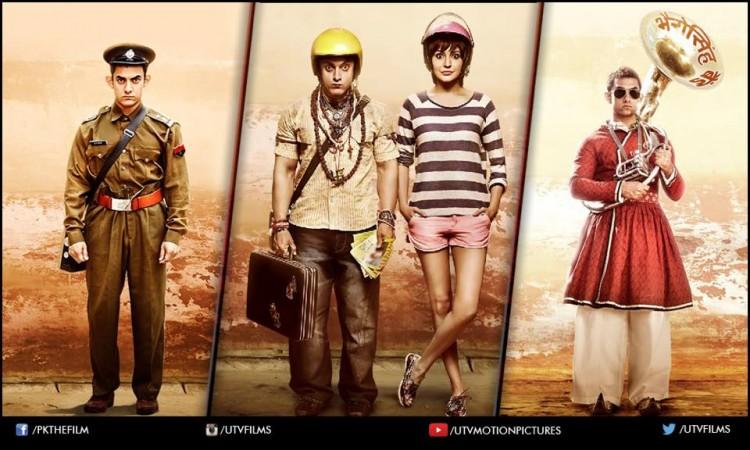 "PK" or "Peekay" has turned out to be the biggest hit film ever in Bollywood collection wise. After beating the records of "Dhoom 3", the film is now set to create ₹300 crore club at the domestic box office.
It is a well-known fact that the first two groups- ₹100 crore and ₹200 crore - were created by Aamir's movies, and now he is set to create the third group of ₹300 crore with "PK".
The comedy drama film, helmed by Rajkumar Hirani, took it's 15 days nett box office income to whopping ₹285 crore and grabbed the title of highest grosser.
The film entered in its third week on Friday (3 January) and it is still going strong. With no big movies in the past two weeks, "PK" continued to dominate the box office.
Hirani's film requires more ₹15 crore to reach the ₹300 crore mark in India and since there is no competition the film is expected to achieve the target by third weekend itself.
The third week started on a good note for "PK" in India. On third Friday the film minted over ₹6 crore, and third Saturday and Sunday's figure is expected to be higher than Friday's total.
Aamir had previously launched ₹100 crore club in 2008 with "Ghajini" film and ₹200 crore with "3 Idiots" and now the much awaited ₹300 crore club will be formed by third weekend.
"PK" journey at the box office started on a decent note by earning only ₹26 crore on opening day. The start of the film wasn't as expected, but the film held well at the collection centers from next day onwards.
The business of the film refused to go downhill even though it was surrounded by controversies. Generally, the collection drops after the film completes first week, but in this case, it remained steady.
Trade analysts are also optimistic that the film will achieve the feat by third Sunday.
"Yes, #PK seems set to touch ₹300-crore mark by Sunday (Jan. 4) night. This is the indication from the trend of collections on Friday (2nd)," trade analyst Komal Nahta tweeted.
"PK Highest Grosser Ever ....is set to make it to the ₹300crs club....shortly now," Girish Johar tweeted.
The film, which was released on 19 December, features Anushka Sharma in female lead role and Sushant Singh Rajput, Boman Irani and Sanjay Dutt in supporting cast. The film has been co-produced by Hirani and Vidhu Vinod Chopra.