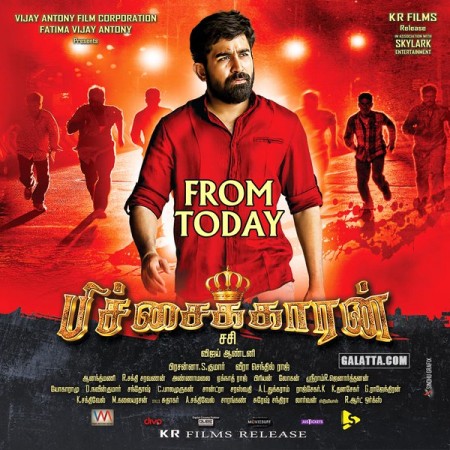 Vijay Anthony-starrer "Pichaikkaran" or "Pichaikaran" has opened to positive reviews. The Tamil movie, which has been written and directed by Sasi, hit the screens worldwide Friday, March 4.
'Sowkarpettai' Movie Review | 'Pokkiri Raja' Movie Review | 'Pichaikkaran' Movie Stills
Apart from producing the Tamil movie on his home banner of Vijay Antony Film Corporation, the actor has composed the music for "Pichaikkaran," which has Satna Titus, Bagavathi Perumal and others in the cast. The flick has Prasanna Kumar's cinematography and Veera Senthil Raj's editing.
There is a good buzz around "Pichaikkaran" after the trailer of the film won a lot of appreciation from the viewers. Vijay Anthony's look garnered positive revenue and people praised him for taking up new challenges film after film.
The songs of the movie have also impressed the viewers and "Nenjorathil" and "Glamour Song" tracks have become popular among youths.
The music director-turned-actor's previous films like "Naan" and "Salim" were decent hits. All these factors have made the audience keep high hopes on his latest movie "Pichaikkaran," which is releasing in over 250 screens in Tamil Nadu and clashing with "Pokkiri Raja" and "Sowkarpettai."
The Tamil movie does not talk about beggars rather narrates the life story of a rich man, who turns poor due to circumstances. Multimillionaire Arul (Vijay Anthony) returns to his native to take over the reins of family business from his mother. Unfortunately, his mom meets with an accident and goes into coma. The only son now wants to save her and a spiritual guru tells him to turn beggar for 48 days if he wants his mother to recover. What happens next is the interesting part of the story.
Reviews:
Find the audience's response to the movie here:
Rajasekar wrote: #Pichaikkaran - once again a rightly packaged commercial entertainer from @vijayantony . He exactly knows what will work at the BO!
Ramesh wrote: #Pichaikkaran [3.25/5]: Dir #Sasi is a Master of emotional movies.. He delivers a powerful Mother sentiment movie.. Will b a winner @ da BO
#Pichaikkaran [3.25/5]: BGM and songs elevate the sentiment and action scenes to a different level.. A crisp 2hr 10 mins movie.. No lags..
#Pichaikkaran [3.25/5]: New face #SatnaTitus with ample support from @raveena116 's voice does the needful.. Supporting cast is OK..
#Pichaikkaran [3.25/5]: @vijayantony knows his strength.. Chooses scripts which suits him.. He delivers what is expected from him..
#Pichaikkaran [3.25/5]: Revolves around powerful Mother sentiment.. Very emotional and engaging.. Entertainment elements r there.. Solid..
Kannan posted: #Pichaikkaran - Decent drama with diff plot of rich man turning beggar, executed with commercial touch & works in parts. Okayish! (5.5/10)
#Pichaikkaran - Vijay Antony as usual plays his role with restraint & shines in action also this time! New find Satna Titus emotes well too.
#Pichaikkaran - Director Sasi's screenplay not engaging enough but dialogues sharp at places. Vijay Antony's music big plus 4 the film!
Prashanth tweeted: You are a brave human being @vijayantony brother. Let piles of money be under your feet. It deserves you #Pichaikkaran
Congrats sasi sir for your first blockbuster. You can wait even 10 years to give a movie like this! #Pichaikkaran
Done watching #Pitchaikkaran - if this movie doesn't satisfy you even a bit , I will refund your ticket money.
Audi scene will generate numerous memes #picchaikaaran #interval
#picchaikaaran interval - commercial , but the movie is as noble as director sasi's heart.Will be the highest collecting @vijayantony movie!
Haricharan Pudipeddi wrote: #Pichaikkaran at interval. Filled with several heart-tugging moments and intermittent humour. Two whistle-worthy lines are worth mentioning
Some of the dialogues in #Pichaikkaran, which @vijayantony delivers with absolute innocence and wit, will stay with you long enough.
Although high on 'amma' sentiment, never does #Pichaikkaran tries to go overboard and that's its biggest strength. The humour works well
@vijayantony knows the pulse of the masses very well. #Pichaikkaran works well as a commercial entertainer with 'amma' sentiment at its core