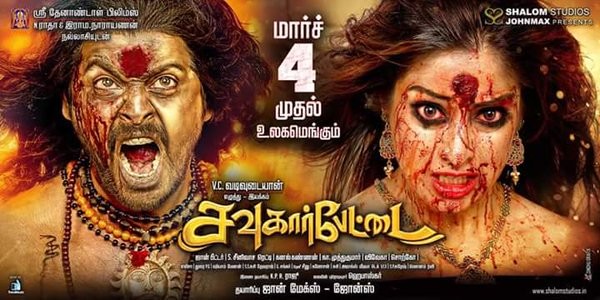 "Sowkarpettai," also spelt as "Sowcarpettai," is written and directed by Vadivudaiyan and jointly produced by John Max and Jones under the banner of Shalom Studios.
Read: 'Pokkiri Raja' Movie Review | 'Sowkarpettai' Movie Stills | 'Pichaikkaran' Movie Review
Srikanth and Raai Laxmi, who was earlier called Lakshmi Rai, appear in the horror movie, which also has Saravanan, Suman, Vadivukkarasi, Singampuli, Manobala, Powerstar Srinivasan, Thalaivasal Vijay and others in the cast. "Sowkarpettai" has John Peter's music, Sreenivasa Reddy's cinematography and Elisa's editing.
Horror films have been getting good response from the Tamil audience in the recent years. "Kanchana," "Pizza," "Aranmanai," and "Demonte Colony" are some of the movies in this genre that have struck gold at the box office. The Tamil audience hope that "Sowcarpettai" will be the latest addition to the list of recent hit horror films in Kollywood.
The trailer has caught viewers' attention and there is a good pre-release buzz around "Sowkarpettai." Hence, a good opening is expected for the Tamil movie even though it is clashing with two other releases like "Pokkiri Raja" and "Pichaikkaran."
"Sowkarpettai" has a revenge story, in which Raai Laxmi plays the role of homely girl Maya, who turns into a ghost in the movie.
Reviews:
Find the audience's response to the Tamil movie here:
Priyanka Tweeted
#LakshmiRai has a strong character. Srikanth is equally good. #Sowkarpettai
#Sowkarpettai turns out to be a a decent horror film. The movie has its moments and share of drawbacks.
Karthi tweeted: #sowcarpettai movie first holf super...nice and good acting @iamlakshmirai ...waiting second half...
AAJMMAL wrote: Show time #SowcarPettai
#SowcarPettai Unbearable!Waste of time, No proper story or any other aspects to watch this film... @sri50
#SowcarPettai I dono hw dare the director nd producer made a movie lyk diz...am damn sure the movie is an utter flop..
Sasi Kumar wrote: #Sowkarpettai - 4/10
Graphics overboard, loosely narrated screenplay, unnecessary glamour, unrelated scene, repeated dialogue - FRUSTRATION
Showing some milky faces as villains in first scene already a big fall back on characterization.