1

of 6 Was Shahid Kapoor dating Sania Mirza Once Upon a Time?
Regarding dating Sania Mirza, Karan Johar had once asked Shahid Kapoor on his popular show Koffee with Karan. Well, witty Sasha, without getting nervous, had handled the tricky situation well.
Credit: Social Media Sites
2

of 6 Priyanka Chopra and Shahid Kapoor on Koffee with Karan
Karan Johar: You are denying Sania Mirza? Shahid Kapoor: Denying of what? Karan: Of yourselves? Shahid: Myself? Have not dating her at all. She is happily married... Karan: Ball was in your court? Shahid: Ball wasn't in my court. I never went on to the court, actually.
Credit: Social Media Sites
3

of 6
Farah Khan and Sania Mirza on Koffee with Karan
Karan Johar had tried to get answers from Sania Mirza about dating Shahid Kapoor when she was at his Koffee with Karan along with her best buddy Farah Khan.
Credit: Social Media Sites
4

of 6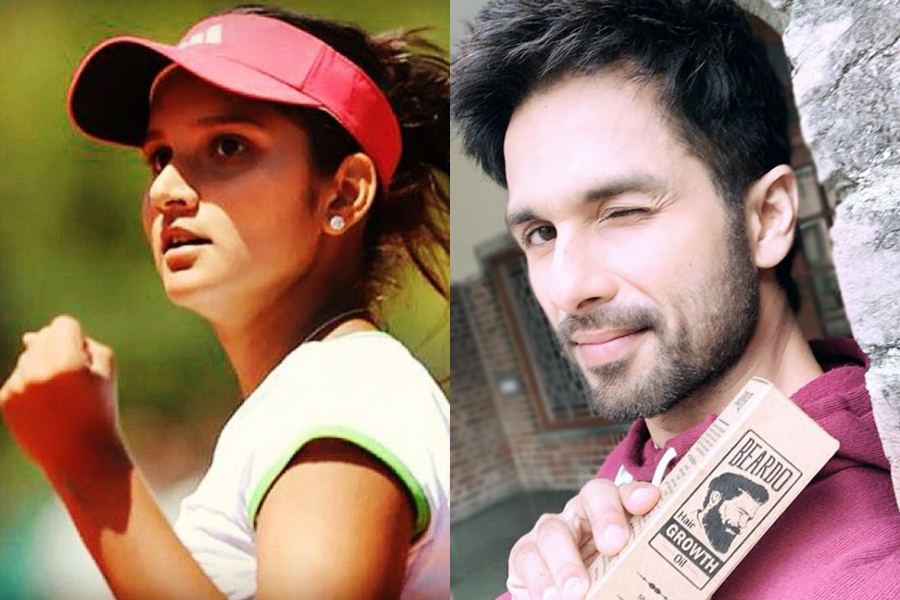 Here is what Sania Mirza had to say about seeing Shahid Kapoor
Karan: How come you have not been approached by any Hindi film boys? Sania Mirza: That never happened to me. Karan: There were some rumours about you and Shahid, were those true? Sania: I can't remember it was so long ago. It never happened as I travel so much. In the rapid fire round, Karan Johar had asked her - who she would kill, marry and hook up among Shahid, Ranveer Singh and Ranbir Kapoor. Her response was that she would hook-up with Ranveer Singh, marry Ranbir Kapoor and kill Shahid Kapoor!
Credit: Social Media Sites
5

of 6
Shahid Kapoor with Mira Rajput
Today, Shahid Kapoor is happily married to Mira Rajput and has two children.
Credit: Social Media Sites
6

of 6
Sania Mirza with Shoiab Malik
Whereas Sania Mirza is married to Pakistani cricketer Shoiab Malik. They are blessed with a baby boy (Izhaan Mirza Malik).
Credit: Social Media Sites