1

of 5
SRK's forthcoming film Raees has created a surround sounds of sorts with the entire buzz the content has been creating. What's more is that the dialogues of the film which have been identified as the most unique ones have started tracking and how amongst the regular audiences. So much so that its now become a vocubulary addition to everyone's language. One such man who has resonated with the dialogue is cobbler Shyam Bahadur who runs a small shop in the suburbs. Shyam to express the love for his dialogue Koi Dhanda Chota Nahi Hota aur Dhande Se Bada Koi Dharm Nahi Hota went ahead to put out a board of the line on his small shop.
Credit: PR Handout
2

of 5
The walker byes started inquiring the uniqueness of the act and Shyam said that how he relates to the dialogue every bit and is glad that SRK has endorsed the one liner in his forthcoming film. When SRK learnt about the man, he immediately expressed on how he wants to meet Shyam and well Shyam didnt realise that he will infact be living his dream. Shyam met SRK at the suburban studio where the actor was placed for the media interaction of his film. Shyam who was nervous not realizing if it was a dream or reality saw the glimpse of the actor heading towards him and Shyam posed a huge smile on his face!
Credit: PR Handout
3

of 5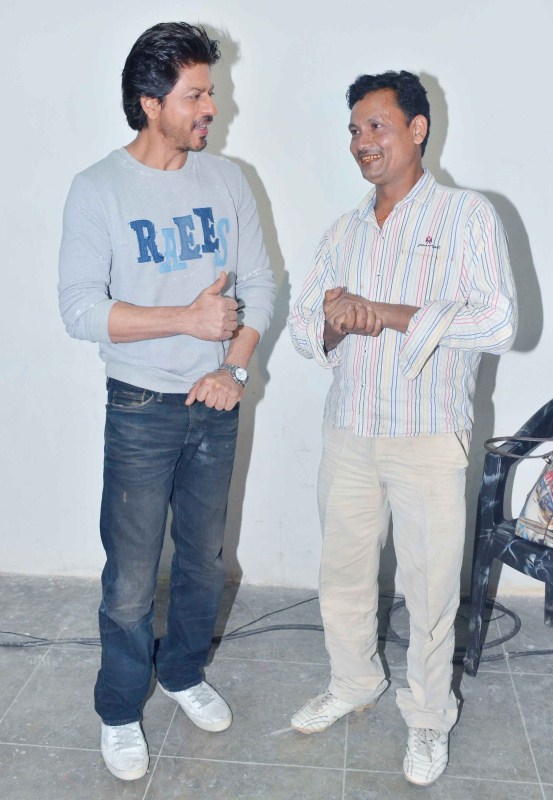 SRK gave Shyam a big hug and was immensely glad to meet the man himself who has resonated so much with the one liner. Shyam not knowing what to say first handed out the shoes that sham personally had made for SRK as a small token of gift. The actor promised Shyam that he will wear the shoes matching it with a Pathani! Shahrukh indulged in to a long conversation with Shyam asking about his shop location and how he identified with the one liner.
Credit: PR Handout
4

of 5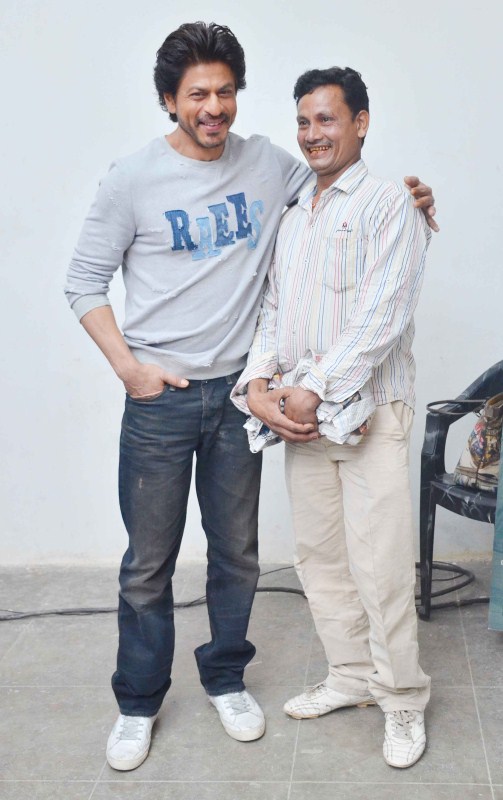 Shyam expressed on how this dialogue says so much in so less words, and hoe people actually have a myth of differentiating the business into small and big! Shyam interacted with Shahrukh for a while and expressed how he isn't believing the moment that he is living right now. Shyam further thanked the actor on how he is grateful to him in bringing this dialogue out and explaining on the significane of any business irrespective of its stature. Shyam also said that he is waiting to watch the film.
Credit: PR Handout
5

of 5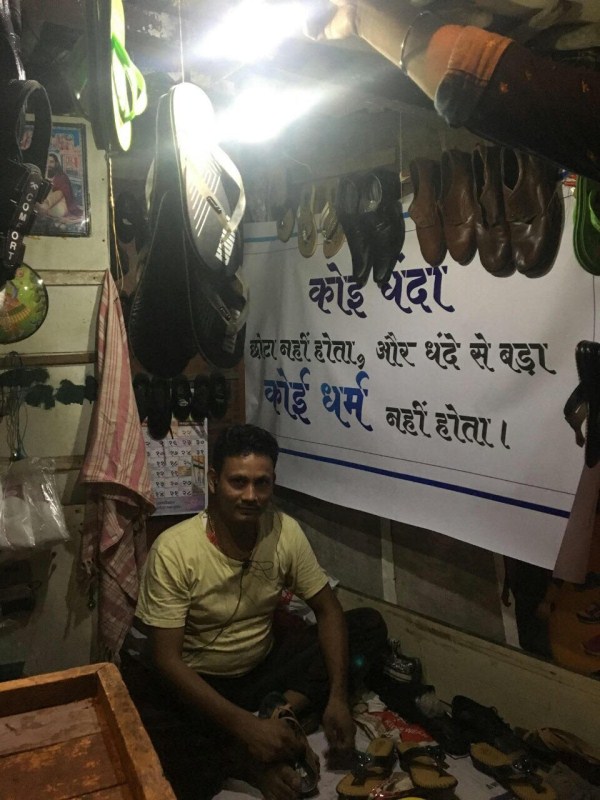 Raees is helmed by National award winning director Rahul Dholakia and stars Nawazuddin Siddiqui and Mahira Khan in addition to Shahrukh Khan playing the titular role. Red Chillies Entertainment and Excel Entertainment Presents an Excel Entertainment Production Raees is set to hit screens on 25th January 2017.
Credit: PR Handout