1

of 6 Makers of Soorma released the much awaited motivating trailer of the film yesterday and celebs from Bollywood appreciated it. From Ranveer Singh to Alia Bhatt celebs took to Twitter to share their sentiment after watching the intriguing trailer. Soorma showcases the struggles of Sandeep to get on his own feet after getting paralyzed for two years after an accidental gunshot that injured him. The trailer even takes us through the journey of India's campaign in the 2009 Sultan Azlan Shah Cup which they won under his captaincy. The trailer which released yesterday had garnered immense appreciation from across the audience. It is an inspiring true story of the human spirit, about a player, who made headlines for his miraculous comeback after an unfortunate accident.
2

of 6
Abhishek Bachchan took to Twitter and wrote, " Je baat!!! What a trailer. Loved it. All the best to my brother @shaadesh, and the immensely talented team. @taapsee, @Imangadbedi, @diljitdosanjh #SOORMA "
3

of 6
Randeep Hooda who is a Cricket lover wrote, " I love cricket but it is always heartening to see other sports in the limelight .. the real life story of Sandeep Singh's comeback to competitive sports after losing the use of his legs is stuff of legends #Soorma "
4

of 6
Ranveer Singh Tweeted the trailer and wrote, " My brother #ShaadAli is back with #SOORMA! Check out this absolute scorcher of a trailer! http://bit.ly/SoormaOfficialTrailer … looks kickass! @diljitdosanjh @taapsee"
5

of 6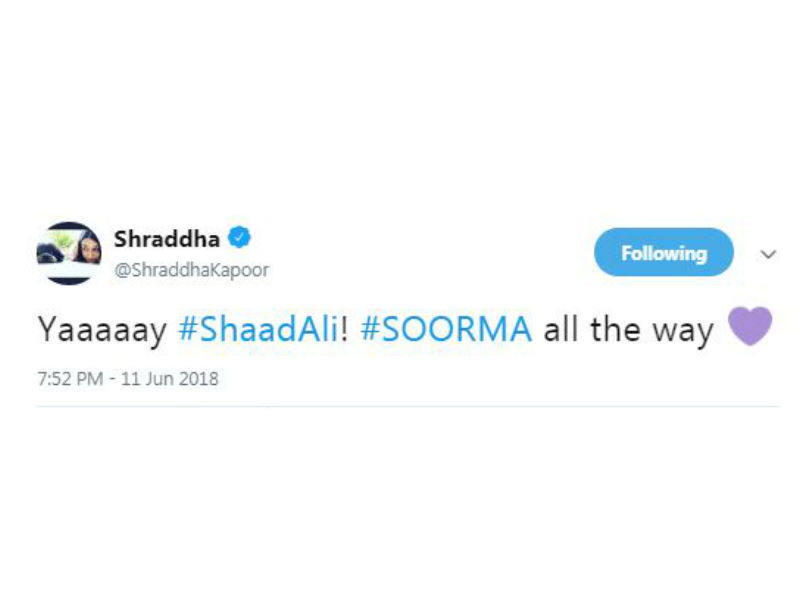 Shraddha Kapoor, who herself is doing a sports biopic wrote, " Yaaaaay #ShaadAli! #SOORMA all the way"
6

of 6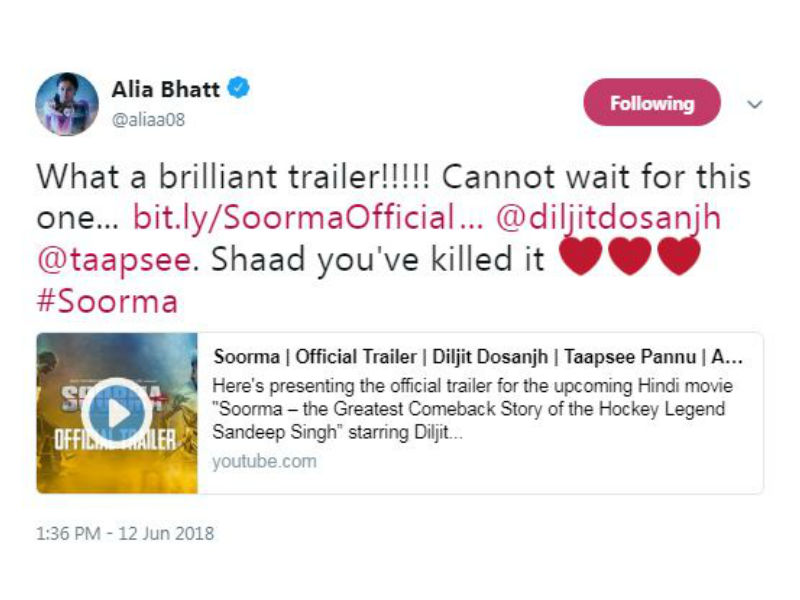 Ali Bhatt wrote, " What a brilliant trailer!!!!! Cannot wait for this one... http://bit.ly/SoormaOfficialTrailer … @diljitdosanjh @taapsee. Shaad you've killed it ❤️❤️❤️ #Soorma"