1

of 5
Priyanka Chopra and beau Nick Jonas step out for pre-engagement dinner date
Global icon Priyanka Chopra, who is rumoured to be engaged to Nick Jonas, stepped out for a dinner with the US-based singer in Mumbai on Friday night. The 36-year-old 'Quantico' actress was spotted wearing a grey plaid patterned dress while the 25-year-old singer wore a navy long sleeve shirt with light grey pants. Priyanka and her rumoured boyfriend Nick were seen walking hand-in-hand during their outing outside the JW Marriott Mumbai Juhu.
Credit: Varinder Chawla
2

of 5 Priyanka steps out for dinner date with Nick Jonas
Meanwhile, a source told E! Online that Priyanka's family insisted on hosting the Jonas family in their country before the wedding. "Priyanka wants everything to be traditional to respect her family's values, and definitely an Indian wedding. The couple is excited for everyone to meet and celebrate. All of the plans are moving quickly and they do not want to have a long engagement," said the source.
Credit: Varinder Chawla
3

of 5
Priyanka Chopra, Nick Jonas step out for dinner date in Mumbai
On Thursday night, Nick flew down to India with his parents - mother Denise and father Kevin Jonas Sr. Earlier this week, Priyanka also showed off her massive diamond rock on her ring finger at ace designer Manish Malhotra's party.
Credit: Varinder Chawla
4

of 5
Priyanka Chopra and Nick Jonas step out for pre-engagement dinner date
Reportedly, Nick popped the question when they were celebrating the 'Baywatch' star's 36th birthday in London.
Credit: Varinder Chawla
5

of 5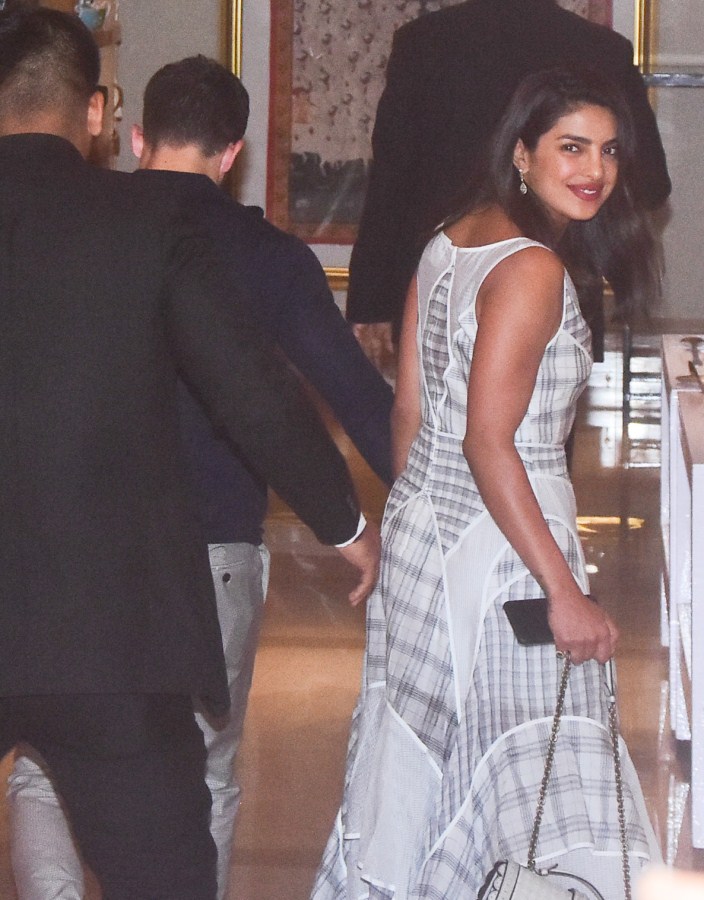 Priyanka Chopra and Nick Jonas
The speculation about their relationship brewed after the pair met each other's family. First, Chopra met Jonas' family at his cousin's wedding in New Jersey, after which Nick travelled to India to meet Chopra's mother.
Credit: Varinder Chawla