1

of 5
India suffered a penalty shootout heartbreak in the Hockey Champions Trophy final for the second consecutive time as they lost 1-3 (1-1) to defending champions Australia here on Sunday. Blake Govers put Australia ahead in the 24th minute. India equalised through Vivek Sagar Prasad's strike in the 43rd minute to end 1-1 at the regulation 60 minutes of play. In the penalty shootout, Australia prevailed thanks to the brilliance of goalkeeper Tyler Lovell, who blocked attempts from Harmanpreet Singh, Sardar Singh and Lalit Upadhyay. Aran Zalewski, Daniel Beale and Jeremy Edwards scored for Australia, who got their record 15th title, while Manpreet Singh tucked one past Lovell for India, who had lost to Australia in the 2016 final via the penalty shootout in London.
Credit: (Photo by Soccrates/Getty Images)
2

of 5
During the 60 minutes of play, both Australia and India had plenty chances to score in a fast-paced match. Although the defending Champions made a good start, India quickly took control with better ball possession (over 60 percent) coupled with eight circle entries, two shots on goal and two penalty corners in the first quarter. While India could not capitalise on the penalty corner opportunities, they missed a golden chance to score a field goal towards the end of the first quarter when Surender Kumar made a beautiful pass to Dilpreet Singh who then crossed it over to S.V. Sunil. But the latter pulled the ball onto his own feet, thus could not score. Australia, on the other hand, were extremely quick on their counters and waited for their chances.
Credit: (Photo by Soccrates/Getty Images)
3

of 5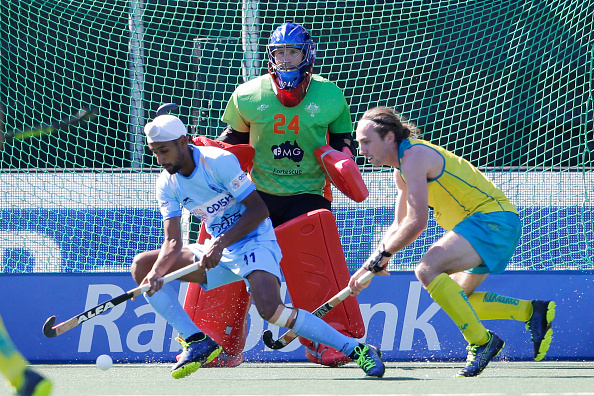 An infringement in the circle saw India concede the first penalty corner of the match and the chance was brilliantly capitalised by Govers as he powered it through. Though Sreejesh got his left glove on the ball, it bounced off into the net giving Australia a critical 1-0 lead in the 24th minute. Though India had dominated major part of the first and second quarters, they had nothing to show on the scoreboard. Looking for the equaliser, in the 38th minute, India appealed for a dangerous ball inside the striking circle but their fifth penalty corner was not only denied, they also ended up losing the video referral at a very crucial juncture of the match. But their moment of reckoning came in the 42nd minute, Vivek hammered a cross by Chinglensana Singh. The equaliser had finally come after 17 circle entries. This was India's seventh attempt on the goal.
Credit: (Photo by Soccrates/Getty Images)
4

of 5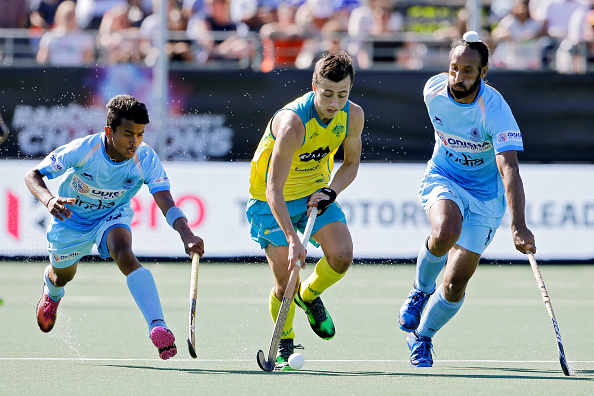 Soon after, Mandeep Singh had a fabulous shot on goal with seconds remaining for the third hooter, but Lovell was exceptional in his save to keep India from taking a lead. With the scores reading 1-1, India pushed up front with forwards Lalit Upadhyay and Mandeep Singh, yet three more shots on goals went amiss.
Credit: (Photo by Soccrates/Getty Images)
5

of 5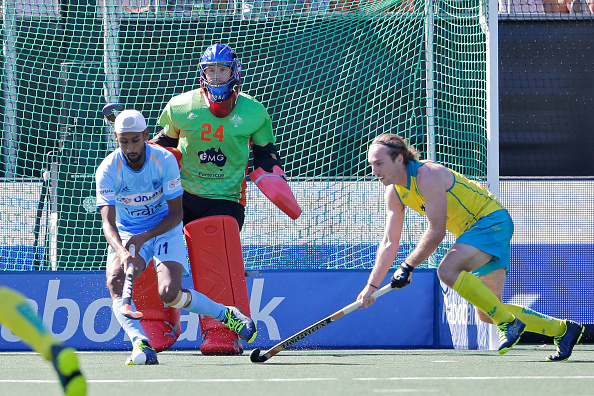 While the team's defence stood out, another great chance was missed with Sunil making a strong foray into the circle but Manpreet Singh on the far post could not make this one count. Seconds ticking away, neither teams could manage a lead thus resulting in yet another shootout where Australia walked away winners.
Credit: (Photo by Soccrates/Getty Images)