1

of 7
Ayushmann Khurrana took to Twitter to share, "Watched #InsignificantMan last night. A great insight of the delhi elections of 2013. It isnt easy to be apolitical when you're working in close quarters of a certain party. Kudos to Anand Gandhi and team for this real political thriller."
2

of 7
Harshvardhan Kapoor said," Having seen #AnInsignificantMan I can say it's something you should all look forward to. Kudos and all the best @Memewala" He further added, "Anything that comes out that you guys are associates with is always world class ... waiting for the day you direct me!"
3

of 7

Richa Chadha said, "Excited to watch #AnInsignificantMan which releases tomorrow @Memewala. Curious about your take Anand."
4

of 7
Neha Dhupia said, "In other news ... very curious to watch this non -fiction political thriller https://youtu.be/Vq646VcT72I @aimthemovie @khushbooranka, @shukla_vinay @memewala #AnInsignificantMan".
5

of 7
Rahul Bose shared saying, "From Nov 17 onwards please go watch 'An Insignificant Man' & see, for the first time, an inside view of politics, no filters, observing the strengths and problems within our democracy as seen through the lens of a new party. @aimthemovie @khushbooranka @shukla_vinay @memewala".
6

of 7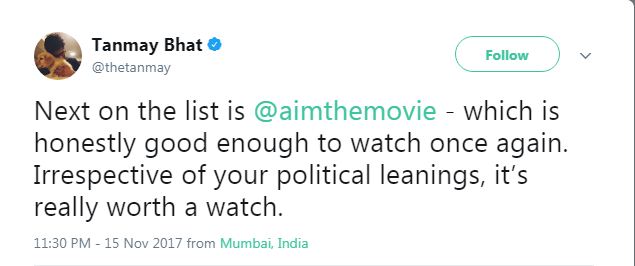 Tanmay Bhatt said, "Next on the list is @aimthemovie - which is honestly good enough to watch once again. Irrespective of your political leanings, it's really worth a watch."
7

of 7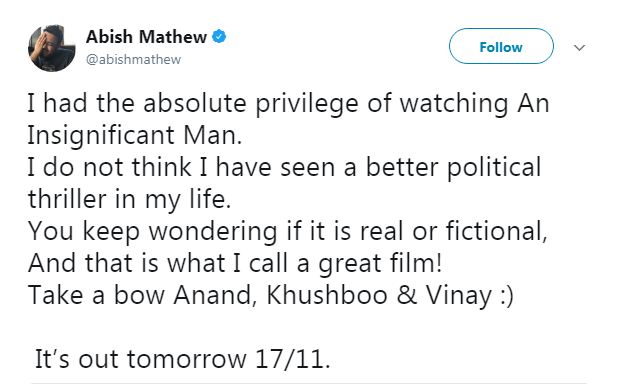 Abish Matthew said, "I had the absolute privilege of watching An Insignificant Man. I do not think I have seen a better political thriller in my life. You keep wondering if it is real or fictional, And that is what I call a great film! Take a bow Anand, Khushboo & Vinay :) It's out tomorrow 17/11."