1

of 5
Angad Bedi who had his recent release of Tiger Zinda Hai taken a buzz on the box office has already started working on his next project with Diljit Dosanjh and Taapsee Pannu's which is a sports drama and is based on the story of the real-life Indian Hockey skipper Sandeep Singh and is being directed by Shaad Ali. The movie has already created a lot of buzz since its announcement leaving curiosity amongst the audience.
2

of 5
The entire cast in the past few weeks has gone through several intense sessions of grueling training to become Hockey players who can excel onscreen and the first schedule of the film is completed in Punjab. Angad a no stranger to the land has spent a lot of time in the state of Punjab and has been well versed in things it's famous for. The actor spent extensive time in parts of Punjab, and who loves to keep fit has taken upon training in Akhadas - the desi version of a modern-day gym.
3

of 5
Akhadas has always fascinated Angad and he has been spending his fitness routines learning these traditional ways to keep fit. He's been training rigorously training and at the same time, he is maintaining his diet. The actor is working very hard for his role.
4

of 5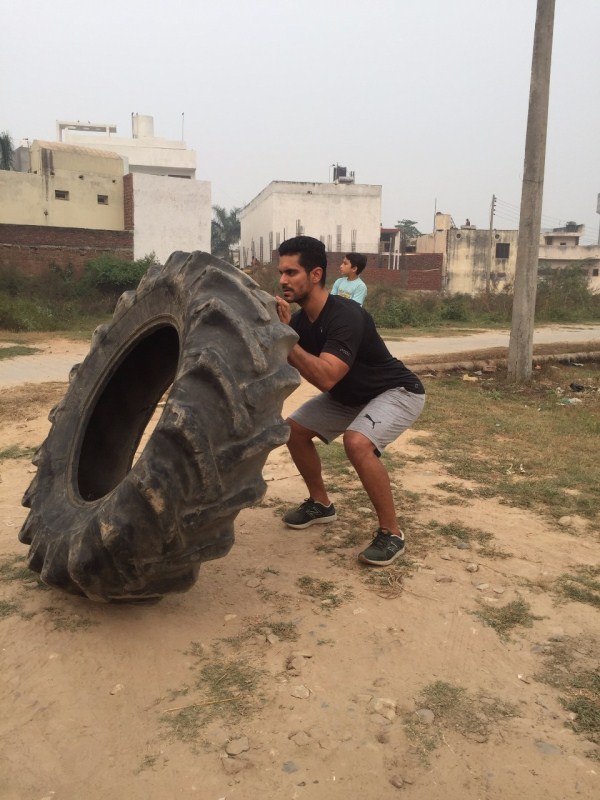 When asked he said, "At 17 only, I started training in the gym. The gym was more like desi style where for the first time I learned weightlifting and bodybuilding exercises. The gym here is not a fancy one, but it's completely like an Akhada.
5

of 5
The equipment is desi but all the types of equipment are there. It's great to be in a situation where you train in a complete old style environment. We are getting personally trained by Sandeep and Bikramjeet, we are also getting trained with the main exercises required for hockey in the same gym. It's different but it is something new to learn and I am enjoying every bit of it."