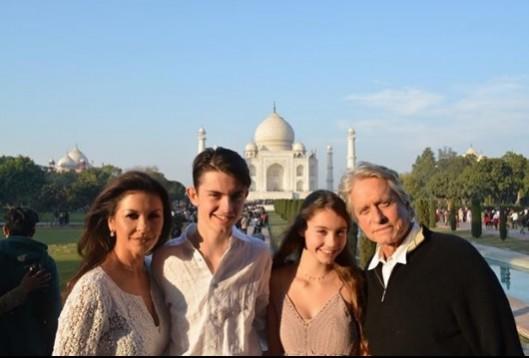 Hollywood celebs love to explore India. For some of them, it is a dream vacation.
This year, Hollywood movie actress Halle Berry and TV actress Shay Mitchell have paid a visit to sub-continent.
It is followed by another popular Hollywood celeb couple Catherine Zeta-Jones and Michael Douglas. The Feud actress even revealed that she has dreamed of visiting India for her entire life.
Also read: Shay Mitchell in India: Pretty Little Liars star tries to steal a cow's spotlight in Varanasi [PHOTOS[
Seems like the actress is also bitten by the wanderlust bug!
Taking to Instagram, the 48-year-old actress shared a few photos along with her family.
In the newly posted picture, the actress is seen spending some quality time with family at the iconic Taj Mahal in Agra. She was clicked with her husband Michael Douglas and their two kids — 17-year-old son Dylan and 14-year-old daughter Carys.
She captioned the picture, "At the Taj Mahal with the three other 'Wonders of the World' in my life❤️."
On the same day, she posted another short, sweet clip of herself walking towards the Taj Mahal holding hands of her hubby. She was looking gorgeous donning a white lace maxi-dress.
Zeta-Jones wrote on Instagram, "The Taj Mahal, today in India. Breathtaking to view and experience. It's just the ultimate love story."
The brunette beauty shared another beautiful picture of herself with the fans while she was in the Indian capital as she captioned, "New Delhi, India, today. When you dream of visiting a country all your life, and it lives up to everything you hoped it would be."