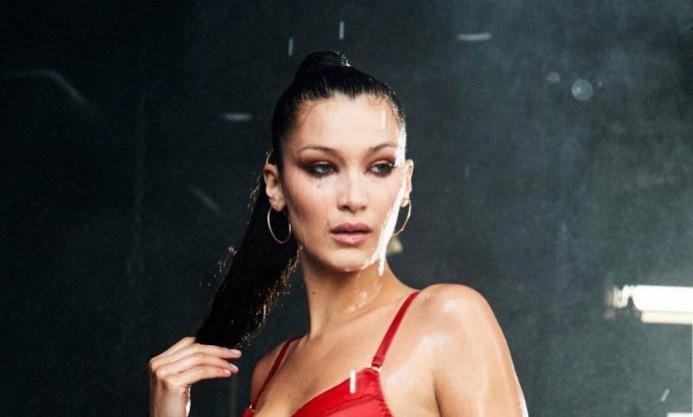 LOVE magazine's annual calendar has already seen a slew of supermodels till date as last week it saw Alexis Ren, Hailey Baldwin, Gigi Hadid and Emily Ratajkowski's raunchy avatars. This week it takes a kickstart with Victoria's Secret Angel Bella Hadid.
Also read: That's naughty! Bella Hadid sets temperatures rising by flashing ample cleavage in an open jacket [PHOTOS]
Bella Hadid slips into a red coloured lingerie from Agent Provocateur for the calendar shoot that will set your pulses racing. She has accentuated her slender figure donning a risqué pair of suspenders and black stockings.
The video begins with Gigi Hadid's younger sister saying, "Hi, I'm Bella and this is hammer day."
"I love beating the s**t out of tires for fun," she says at the end of the video.
In a recent interview with The Telegraph, the 21-year-old supermodel confessed that she still feels very uncomfortable in front of the lenses despite being one of the most popular supermodels in the world.
"I'm still very uncomfortable in front of video cameras so I'm trying to figure that out. I've become confident with the people around me and myself, I've made friends with everybody so instead of it being a camera, it's about the person behind the camera," she explained.

"When you're comfortable with the people around you, you learn not to be so nervous and to smile," she further added.
Both the Hadid sisters recently made it into the recent list of Forbes' highest-earning models in the world — Gigi came in at number 5 with an estimated annual income of $9.5 million while Bella ranked ninth with the annual income of $6 million.
LOVE magazine releases a steamy Advent Calendar shoot every year to countdown to Christmas.
Watch the video here.