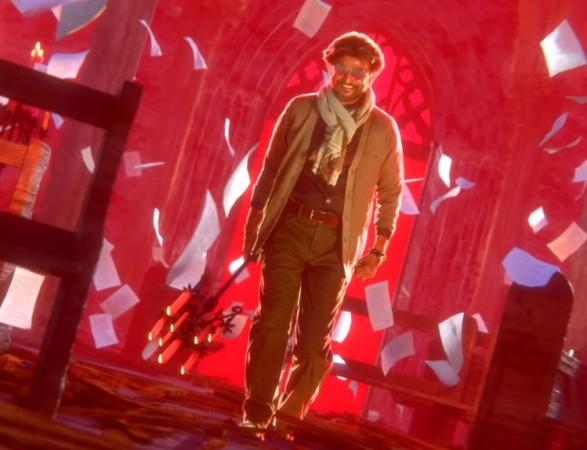 Karthik Subbaraj's Petta starring Rajinikanth, Vijay Sethupathi, Simran, Trisha and Megha Akash, has received mixed review an average rating from the Telugu critics, who say that it is strictly a treat for Rajini fans.
Story: Kaali (Rajinikanth) takes charge as a hostel warden to control the ragging issue. Hailing from Uttar Pradesh, his original name is Petta and Simhachalam (Nawazuddin Siddiqui) is chasing some reasons. Murders attempts in the hostel force him to reveal his real name. What happens next forms the crux of the film.
Analysis: Petta is another formulaic movie of Rajini and there is very little talk about its story. The first half suffers from predictable and tepid narration, but the second half is good entertainment. Rajinikanth has delivered brilliant performance, which is the highlight of the film. Others have also done good jobs and are assets of the film. Action, dialogues, camera work and music are good, say the Telugu critics.
Petta movie review roundup: The movie has been rated an average of 2.30 out 5 stars. Here are some Telugu critics' verdict and rating published on various movie portals.
123Telugu Rating: 2.75
Fans of Rajini had a general complaint that they were missing the trademark Rajni and his fan moments as he was playing mostly mature roles. But director Karthik Subbaraj has showcased all those thrills in high spirits which will please the hardcore fans. Apart from the fan factor, this film does not have the story or gripping narration which will please the regular audience and ends as a below average watch this weekend. Watch it only for Rajni.
Telugu Mirchi Rating: 2.75
It's an effort of extracting vintage Rajini to the current generation. The product has come out how a Rajini fans is expects it to be.A must watch if you are Rajini fan. Otherwise also a one time watch.
Telugu360 Rating 2.5
Petta is a film strictly aimed at fans, successfully caters them 'alone '. Petta has a clichéd story, adding salt to the wounds it has poorly made second half. Rajini's vintage mannerisms, his stylish looks are the saving grace in this high budgeted film. Except the core fans and masses, others may find this film disappointing. Young director Karthik Subbaraj couldn't make the cut.
Tollywood Rating: 2.5
Petta is a complete mass entertainer with twists and turns. Petta is a special movie for the movie lovers for two main reasons- one is presence of Rajinikanth and the other is director Karthik Subbaraj. The director Karthik Subbaraj is popular for his unique, entertaining films. Rajinkanth's swag and Karthik Subbaraj's direction makes this film an entertaining watch.
AP Herald Rating: 1
The movie with a weak plotline fails to entertain and is tiresome to sit through. The movie in fact is devoid of moments that would at least make us chuckle. Instead we are served with lame casual humor. Also, the film requires some trimming. Background Score is yet another let down. Bangaru Kodipetta indeed marks a huge fall in quality from Raj's earlier work Boni and Swathi _ Navdeep fans are definitely bound to be disappointed.
The Telugu Filmnagar
For all those who love entertainment, fun and energy, along with a dash of Rajinikanth's trademark mannerisms and a sprinkle of action and drama, Petta is the movie for you!