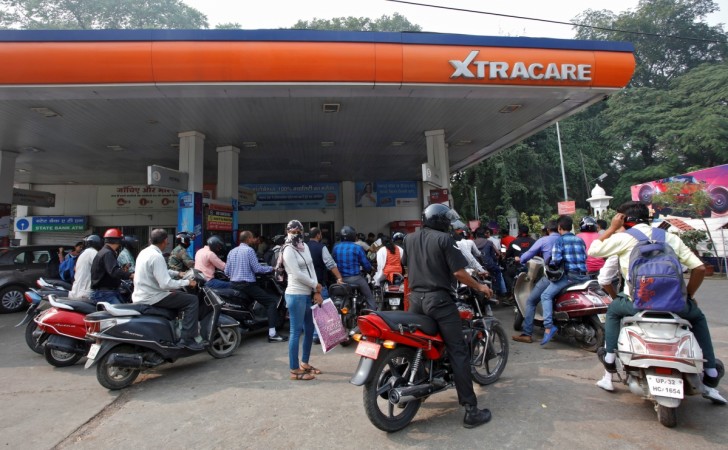 After rallying up for weeks, the fuel prices have started coming down in India, much to the relief of the public. Petrol and diesel prices have started continued to fall for the fifth straight day on Monday, February 12.
Petrol price across the metro cities in India saw a dip of 21-22 paise per liter while the diesel price declined by 28-30 paise per liter on Monday alone.
According to Indian Oil Corporation's website, petrol is priced at Rs 80.87 per liter in Mumbai, Rs 73.01 per liter in Delhi, Rs 75.7 per liter in Kolkata, and Rs 75.73 per liter on Monday. Diesel is priced at Rs 67.75 per liter in Mumbai, Rs 63.62 per liter in Delhi, Rs 66.29 per liter in Kolkata and Rs 67.09 per liter in Chennai.
Also Read: Fuel prices burn pockets: Petrol costs Rs 81.24 per liter in Mumbai
At present rate of global crude oil, rupee-dollar exchange rate, excise duty, and VAT (Value Added Tax) levied by the ministry and state governments etc are the major deciding factors of fuel prices in India.
In India, state-owned petrol and diesel retailers have adopted the daily price revision system from June 2017 by putting an end to the 15-year-old practice of revising fuel rates on 1st and 16th of every month. Under the new dynamic daily pricing system, diesel and petrol rates are revised every day
In Union Budget 2018, finance minister Arun Jaitley reduced basic excise duty on petrol and diesel by Rs 2 per liter. He also announced the introduction of a new Road and Infrastructure Cess of Rs 8 per liter.
The Goods and Services Tax (GST) Council may consider the proposal to bring fuel rates under GST structure in its next meeting. Currently, the fuel prices are out of the GST regime.