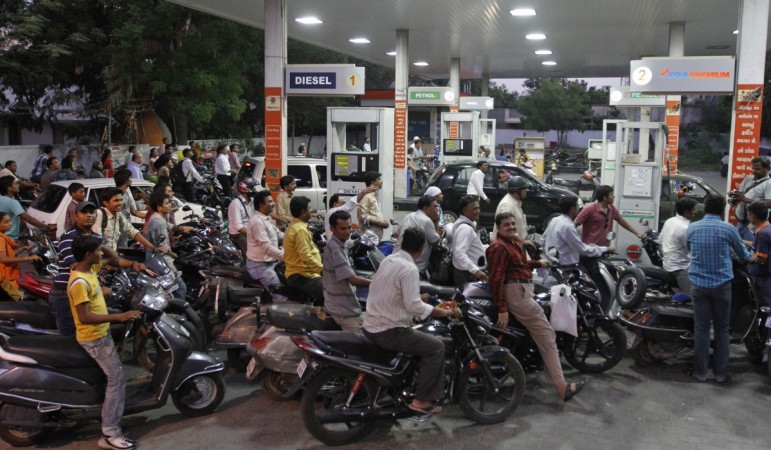 Fuelled by an upward trend in the international crude prices, petrol and diesel prices continued to scale new heights in India on Tuesday, burning a bigger hole in the pockets of the common man.
In India's financial capital Mumbai, petrol price touched Rs 81.24 per liter on Tuesday. In Delhi, Petrol cost Rs 73.38 per liter while in Kolkata and Chennai, it was priced Rs 76.07 and Rs 76.12 per liter respectively.
One liter of diesel cost Rs 68.39 in Mumbai on Tuesday and Rs 64.22 per liter in the national capital. Diesel prices stood at Rs 66.89 per liter in Kolkata and Rs 67.73 per liter in Chennai.
The oil prices show no sign of lowering down anytime soon even as the central and state governments continue to pass the buck when it comes to the reduction in various duties imposed on the fuel prices.
To lessen the impact of rising fuel prices, finance minister Arun Jaitley reduced basic excise duty on petrol and diesel by Rs 2 per liter in the Union Budget 2018. But the FM announced the introduction of a new Rs 8 per liter cess called Road and Infrastructure Cess. In effect, the reduction in excise duty did not make any difference in the fuel prices for the consumers.
The Goods and Services Tax (GST) Council may consider the proposal to bring petrol and diesel under the GST regime at the next meeting. When the GST with 'one nation one tax' mission was implemented from July 1, 2017, fuel prices were out of the regime. The fuel prices in India attract both central excise and VAT (Value Added Tax).