Stargazers would be delighted to know that one of the most popular event of meteor showers of the year is underway. Perseids meteor shower this year will go on till 13 August and it will be easily visible with at least a dozen shooting stars visible to the naked eye.
The Perseids, as it is known, is seen around early August every year as Earth moves through the wake of a trail of debris left behind by the comet Swift-Tuttle, notes a report by the CBS. NASA's Meteoroid Environment Office (MEO) has reported that this year, space enthusiasts are in for a treat because they will be able to see it better and more clearly, because of less moonlight. "We won't have any moon messing it up," says Bill Cooke of MEO.
"The moon will be setting early so there won't be much moonlight that will be interfering at night," Cooke said. "Peak rates will be just before dawn."
When and where to watch the Perseids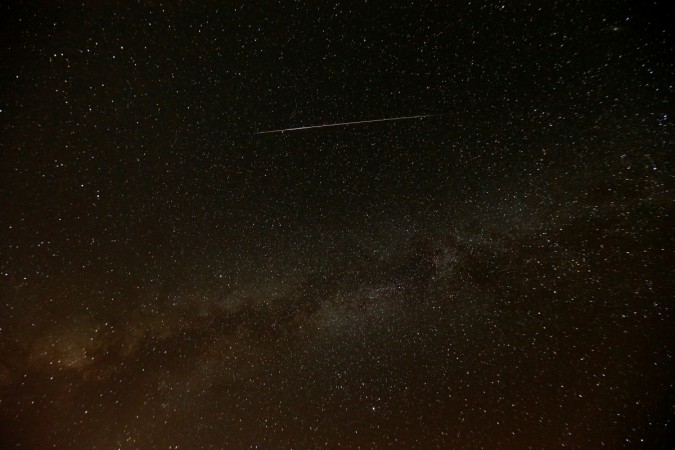 The report mentions that while Perseids meteors have passed over Earth's atmosphere since the end of July, the best dates for viewing the showers are between Saturday, August 11 and Monday, August 13. Monday night will be the best of the three days to view the Perseids, notes Cooke. However, the meteor showers will technically be visible all through the month.
In the dark of the night, people should be able to see a meteor streak across the sky every minute or so, he said. This frequency is about normal for the Perseids.
For all those living in the planet's Northern hemisphere, they only need to look up. As long as the sky is clear and the region is not overrun by light pollution, meteors will be easily visible, notes the report.
"You'll get a decent show as long as you're north of the equator," said Cooke. "As long as you have clear skies and you're away from the city, you should have a good show."
For those who want to see the meteor showers without the interference of city lights, look for dark sites nearby and drive out to these places. A dark site is typically a spot where the entire Milky Way galaxy is visible in the sky, the views not marred by artificial lighting that is prevalent in most cities.