After the finale of Bigg Boss Telugu 2, Star Maa has launched Pelli Choopulu on Sunday and 12 beautiful girls hailing from different parts of globe entered the show in a bid to marry Pradeep Machiraju.
The makers have erected a grand set for Pelli Choopulu, which looks glitzy with beautiful lightings. Anchor Suma, who plays the role of Pradeep Machiraju's sister on the show, arrived in a bullock cart and entered the set in style, dancing to the tunes of the song Super Machi from S/O Satyamurthy.
Addressing the audience, Suma said, "You have watched comedy, dance and singing reality TV shows. But Pelli choopulu is different from all of them. In fact, it is above all those shows. Bachelor Pradeep Machiraju is set to choose his partner through this show and get hitched with her. Many girls are now ready to impress him."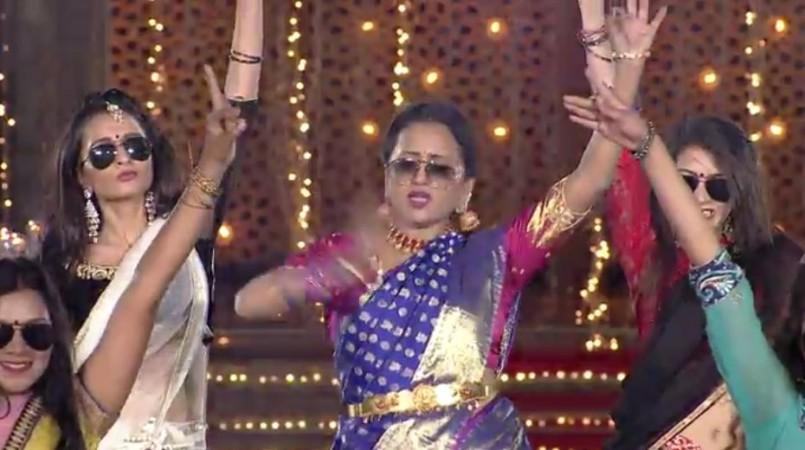 Pradeep Machiraju arrived in a luxurious car and made a stylish entry on the sets of Pelli Choopulu. Suma welcomed him and called him the most eligible bachelor. Talking to her, he said, "The talks about my marriage have been going on for quite some time now. I am busy with my shooting schedules and a partner is very important in this busy life."
Pradeep Machiraju added, "When it comes to marriage, there are several ways of finding bride and bridegroom. Since the viewers have witnessed me growing up as an actor, I decided to showcase my likes and dislikes to them before I choose my partner. I liked the concept of Pelli Choopulu, which is all about understanding each other before the marriage."
Fourteen beautiful girls -- Divya, Neha Ajmal, Ramaya Krishnan, Shreya, Sahiti, Yashmi Kanakala, Rithu Shekhar, Deena, Monika, Dayana, Chandrakala, Divya, Shebina and Manushri -- have entered the show. As he started receiving them, Pradeep Machiraju looked quite shy. All the girls were delighted to see him. Some of them were speechless and could not stop their happy tears.
Pradeep Machiraju received them with warmth and smile. He was also tensed, but maintained his cool and kept them at their ease. Pradeep also said that he will meet them in coming days to understand them and let them about know his character.
Anchor Suma, who had let him handle this process on his own, was giving tips to Pradeep Machiraju. After he received the participants, she asked him to give a gold chain with a key in it and offer it to the girl, who impressed him at first sight.
Suma said, "You have seen so many girls today. You have to put this necklace on the girl who has impressed you at the first sight. This necklase has key, which is meant to open your heart. Today, I will allow you to spend some extra time with that girl on who you put this one."
Pradeep Machiraju played a prank and kept taking rounds around the girls in the party hall. When he moved around holding the lubb dubb (heart beat) chain, it really increased the heartbeat of all the girls. Finally, he offered it to Deena and the two were seen spending some time understanding each other.