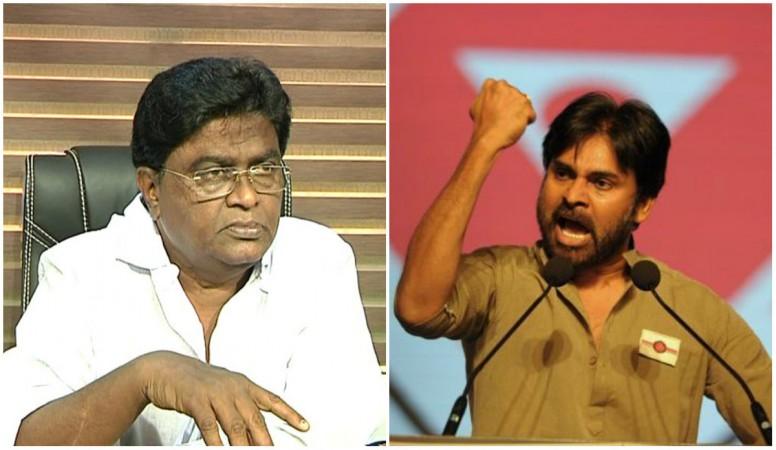 TDP MLA Jaleel Khan has said the people in Andhra Pradesh are not ready to accept the ideology of power star Pawan Kalyan, and that his Jana Sena Party will not win even four seats in the state.
Andhra Pradesh Chief Minister N Chandrababu Naidu quit the BJP-lead NDA and his Telugu Desam Party (TDP) proposed a no-confidence motion against the Union government in Parliament last week.
MLA Jaleel Khan, along with a group of people from his community, met the chief minister and felicitated him. Khan said the Muslim community in the state welcomed Chandrababu Naidu's decision to quit the NDA.
Later, talking to reporters, Jaleel Khan slammed all those who were criticizing Chandrababu Naidu. "All the minority communities — Muslims, Christians, SC, ST and others — will support the decision of Andhra Pradesh Chief Minister N Chandrababu Naidu. People across the state are not ready to believe YSRCP chief Jagan Mohan Reddy," the TDP MLA told TV9 Telugu.
Talking about Pawan Kalyan, Jaleel Khan said the actor has no future in Andhra Pradesh politics. "Nobody is interested in Pawan Kalyan's ideology. His brother Chirajeevi's Praja Rajyam Party had won 16 seats, but the current situation is such that Pawan Kalyan's Jana Sena Party won't even win 4 seats," said Khan about the power star and his political party's prospects in the upcoming Assembly elections.
Meanwhile, Jaleel Khan claimed Chandrababu Naidu has the support of 200 MPs. "When Jagan Mohan Reddy moved a no-confidence motion, no national party came forward to support him. On the other hand, N Chandrababu Naidu's no-trust motion has immense support from all the secular parties across the country. He has got the support of 200 MPs in Parliament," said the MLA from Vijayawada.
Jaleel Khan was first elected to the Andhra Pradesh Assembly on a Congress ticket in 1999. He was elected as MLA from the YSRCP in the 2014 state Assembly elections.
He ditched the YSRCP in 2016 to join the ruling Telugu Desam Party. He was expected to get cabinet birth during the recent shuffle, but when things did not work out in his favor, he was nominated as AP Waqf Board chairman.