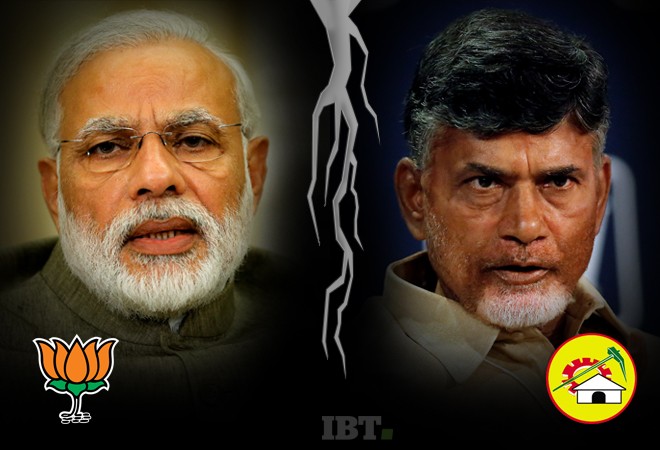 Andhra Pradesh Chief Minister N Chandrababu Naidu has alleged that Prime Minister Narendra Modi is pitting YSRCP leader Jagan Mohan Reddy and Jana Sena party leader Pawan Kalyan against him.
Pawan Kalyan laughed at N Chandrababu Naidu at the formation day event of Jana Sena Party in Guntur on March 14. A day after the event, the AP CM held a teleconference with the MPs of the TDP. Addressing them, he said that Narendra Modi was following the British policy of divide and rule.
The Andhra Pradesh Chief Minister alleged that the Prime Minister first played these tactics to create feud between the two factions (OPS and EPS) of the AIADMK party in Tamil Nadu. Now, he is repeating the same in Andhra Pradesh, by setting up YSRCP and Jana Sena party leaders against him.
"Instead of giving what AP people are rightfully asking, BJP is resorting to using Jagan Mohan Reddy and Pawan Kalyan against us...PM Modi is trying to repeat in Andhra Pradesh what he has done in Tamil Nadu," the Times of India reported him saying during a teleconference with his party MPs.
Chandrababu Naidu also spoke about anti-BJP and anti-Modi sentiment in the country. "There is strong anti-Modi and anti-BJP feeling across the country. Yesterday's UP and Bihar by-poll results are an example of that," the CM added.
N Chandrababu Naidu joined NDA alliance led by the BJP in the last general election and he had a very good relationship with Narendra Modi. But the relationship between the two started souring due to two reasons. Firstly, the BJP-led central government had promised to give Special Category State to his state during the last general election, but it later declined, saying there was no such provision.
Secondly, the BJP is already preparing for the next general election to be held in 2019. A group of the BJP MPs from Andhra Pradesh, who wanted their party to tie up with Jagan Mohan Reddy, started criticizing N Chandrababu Naidu's governance in public. Despite the CM's warning to break his ties with the BJP, they did not stop talking negative talk about him. The upset TDP walked out of the NDA alliance.