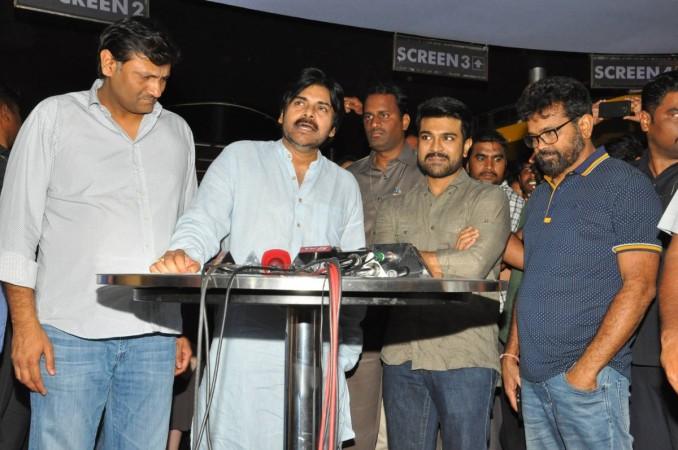 Rangasthalam is earning great reviews from across the globe and is still minting moolah. The revenge period drama is also earning great reviews from celebs in the Telugu film industry. And the latest celeb who is going gaga over the film is Pawan Kalyan.
Power Star Pawan Kalyan is bowled over by Ram Charan's performance in his latest outing, which is directed by Sukumar and produced by Y Naveen, Y Ravi Sankar, and CV Mohan.
Many celebs who watched Rangasthalam in its opening week enjoyed it a lot and some even shared their reviews on social media. Their verdict boosted its collection to some extent. However, Pawan Kalyan who was busy with his political activities couldn't watch it.
The makers arranged a special screening of Rangasthalam for Pawan Kalyan, who took some time off from his busy schedule to watch the movie. He was accompanied by his wife Anna Lezhneva and his nephew Ram Charan. After watching the film, the power star addressed the media and praised the team for their wonderful work in it.
Pawan Kalyan said, "After Tholi Prema, I never came to a theatre to watch a movie, but for some reason, I felt like watching Rangasthalam. It is really a wonderful movie and Ram Charan has delivered an outstanding performance. Producer Naveen has made a good movie."
The power star, who was in a hurry, promised that he would share a detailed review on Rangasthalam at its success meet. "Sukumar has done brilliant work in writing a good story and screenplay for Rangasthalam that deals with a story, which is very close to reality. I will speak in detail about the movie during the success meet," added Pawan Kalyan.
Watch Pawan Kalyan sharing his brief review on Rangasthalam:
While every celeb from the mega family has watched Rangasthalam, Allu Arjun hasn't watched it yet. The stylish star skipping the movie has created a lot of buzz in the social media, but he has kept mum on the issue. The sources close to him claim that the actor is busy wrapping up the shooting of Naa Peru Surya Naa Illu India, which will release, May 4.