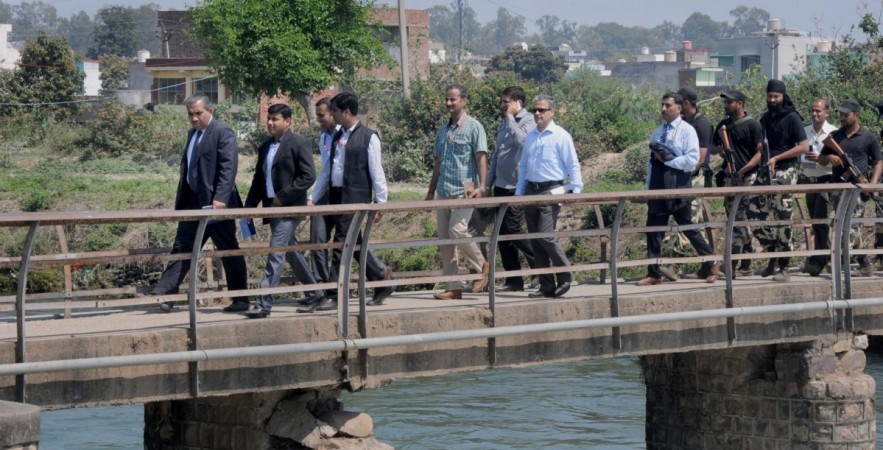 The National Investigation Agency (NIA) has reportedly made a "formal request" to Islamabad seeking permission to visit Pakistan to further investigate the attack on the Indian Air Force base in Punjab's Pathankot on Jan. 2. Meanwhile, Interpol on Tuesday issued Red Corner notices against Jaish-e-Mohammed chief Maulana Masood Azhar, and his brother Abdul Rauf.
The NIA has handed over the written request to the Ministry of External Affairs (MEA) that will forward it to Islamabad, the Indian Express reported, citing its sources. The NIA's letter, according to the sources of the daily, contains a proposal to record statements of Azhar, Rauf, and Shahid Latif and Kashif Jaan, who instructed the attackers over the phone.
Based on its probe, the NIA had accused JeM of carrying out the attack on Pathankot airbase and sought Red Corner notices against Azhar and Rauf after they secured an arrest warrant against the the suspected JeM members, Zee News reported.
Visit to Pakistan
In March, India allowed a Joint Investigation Team (JIT) from Pakistan to visit India to examine the evidence provided by New Delhi in connection with the attack, and proposed a visit by NIA to Pakistan. The agency had then handed over Letters Rogatory to the JIT in regard to the request. Letters Rogatory is a formal request from a court to another court in a foreign country to seek judicial assistance.
"We have been seeking reciprocity from Pakistan on the Pathankot probe. While the issue of a reciprocal visit by the NIA to Pakistan was discussed during Foreign Secretary-level talks on the sidelines of the Heart of Asia conference, we are now sending the first formal request seeking a visit to Pakistan. A letter is being sent to the Ministry of External Affairs for further communication to Pakistan," the IE quoted an NIA officer as saying.
Indian Foreign Secretary S Jaishankar had raised the issue of investigation into the Pathankot attack during a meeting with his Pakistani counterpart Aizaz Ahmed Chaudhry on the sidelines of "Heart of Asia" summit on April 26. Jaishankar sought assurance that Pakistan will take stringent action against the people responsible for the Pathankot attack that led to the death of seven security personnel.
Earlier, Pakistan High Commissioner to India Abdul Basit had denied that the investigation into the airbase attack was about reciprocity, and said it was about cooperation instead. However, later Pakistani Prime Minister Nawaz Sharif's Adviser on Foreign Affairs Sartaj Aziz said Islamabad would take a call on inviting NIA for further probe if additional information was required.