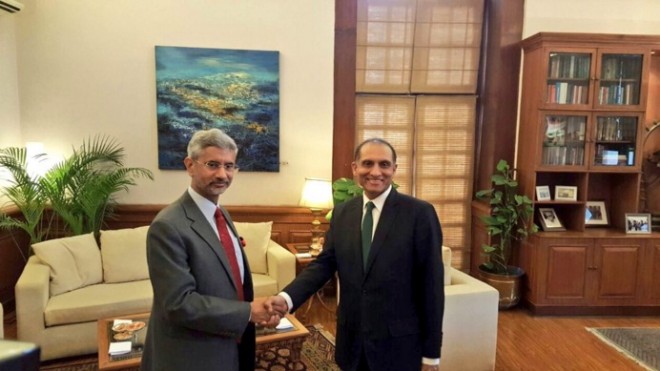 The foreign secretaries of India and Pakistan met in New Delhi on Tuesday, months after their scheduled meeting in January was cancelled following the Pathankot terror attack earlier this year. While Pakistan Foreign Secretary Aizaz Ahmed Chaudhry arrived in India to attend the "Heart of Asia" summit, a formal meeting with his Indian counterpart S Jaishankar was the point of focus for the two countries.
While Pakistan brought up the Jammu and Kashmir dispute as the "core issue" during the talks, India raised the issue of the Pathankot attack and its investigation as well as the 26/11 Mumbai attack trial.
"All outstanding issues, including the Jammu and Kashmir dispute, were discussed. The [Pakistani] foreign secretary emphasised Kashmir remains a core issue that requires a just solution in accordance with UNSC resolutions and wishes of Kashmiris," the Pakistani high commission was quoted by the Press Trust of India as saying on Tuesday.
India, however, raised the Pathankot issue, demanding assurance on action against the perpetrators. Jaishankar brought up the Pathankot probe during the talks and said "Pakistan cannot be in denial on the impact of terrorism on the bilateral relationship," according to a tweet by Indian Ministry of External Affairs spokesperson Vikas Swarup.
Pakistani also reportedly mentioned the recent arrest of a former Indian Navy officer in Pakistan who has been accused of spying for Indian intelligence agency RAW, according to ANI news agency. India sought consular access to the Indian, who, it claims, was "abducted."
The Jan. 15 foreign secretary-level meeting scheduled to be held in Islamabad had been suspended after alleged Pakistani terrorists attacked the Indian Air Force base in Pathankot on Jan. 2. The attack was a rude jolt to the momentum of the India-Pakistan talks following the sideline meeting between the prime ministers of the two countries in Paris and a surprise visit by Narendra Modi to Lahore in December last year.
India had strongly suggested that talks with Pakistan would depend on the latter's action against terrorists, especially against Jaish-e-Mohammed chief Maulana Masood Azhar, who is believed to have masterminded the Pathankot attack. "In the aftermath of a terror attack, if you ask me what is the priority, dealing with terror or diplomatic dialogue then the answer is obvious," Indian Foreign Secretary S Jaishankar had said last month.
Jaishankar had informally met Chaudhry in Nepal last month when they were attending a SAARC meeting. However, Tuesday's meeting is the first official one since the two countries announced the Bilateral Comprehensive Dialogue (CBD) in December last year.