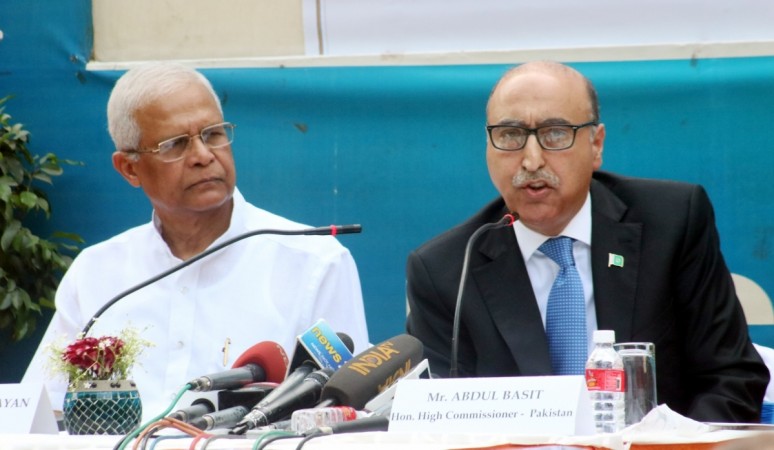 The foreign secretary-level talks that has been due between India and Pakistan stands suspended as of now, Asian News International (ANI) quoted Pakistan High Commissioner to India Abdul Basit as saying at a press meet Thursday.
The Jammu & Kashmir dispute is the prime issue holding back the two countries from initiating peaceful dialogues, he added.
"It is the J&K dispute that is the root cause of mutual distrust (Indo-Pak) and other bilateral issues," Basit.
"As far as I know there is no meeting scheduled between the two foreign secretaries yet. I think at present it is suspended, so lets see if we are able to commence the dialogue process," ANI quoted him as saying.
Further talking about the relations between the two neighbours, Basit said the arrest of Kulbushan Jadhav, the alleged Indian spy, in Pakistan proved Islamabad's allegations that New Delhi was behind the unrest in Balochistan, according to Indo-Asian News Service.
"We all are aware of those who seek to create unrest in Pakistan and destabilise the country. They're bound to fail as the people of Pakistan are united to effectively counter anti-Pakistan subversive activities," ANI quoted him as saying.
There is uncertainty that Islamabad will accept New Delhi's proposal to allow National Investigation Agency (NIA) team handling Jan. 2 attack on the Indian Air Force base in Pathankot, Punjab, to visit Pakistan for further investigation, Basit said.
"At this stage, I personally feel that this whole investigation is not about reciprocity in view, it is more about extending cooperation, or the two countries cooperating with each other to get to the bottom of the incident, so I don't know at this stage," he added.
Last month, a five-member Joint Investigation Team (JIT) from Pakistan visited India to investigate the Pathankot attack. During the meeting, JIT had welcomed NIA's proposal to visit Islamabad for further investigation, according to reports.
It is the J&K dispute that is the root cause of mutual distrust (Indo-Pak) and other bilateral issues: Abdul Basit pic.twitter.com/ULlGHFExEp

— ANI (@ANI_news) April 7, 2016
They're bound to fail as the people of Pakistan are united to effectively counter anti-Pakistan subversive activities: Pak High Commissioner — ANI (@ANI_news) April 7, 2016